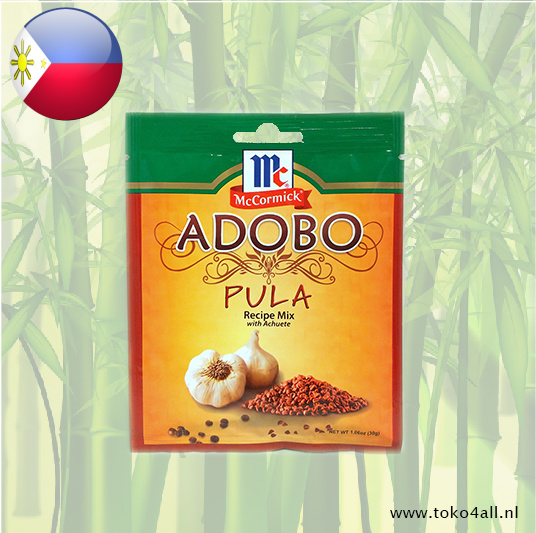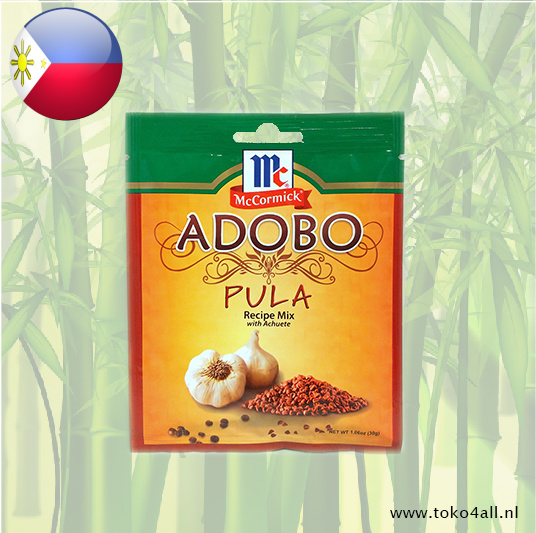 Adobo Pula Recipe mix with achuete 30 gr
€1,75
Adobo Pula sauce mix with Annatto is a delicious sauce that gives your meat or chicken a different taste and this time with a somewhat red color.
In stock (1)
(Delivery timeframe:1-3 days)
Adobo Pula Recipe mix with achuete
You can use this mix to make yourself a delicious Filipino Adobo dish. The Adobo dish is a meat or chicken dish that marinates the meat in the mix with water. The meat is then baked and simmered in the same marinade. The result is a delicious dish that you can eat with rice, noodles or noodles.
Filipino Adobo
This dish is a very popular dish in the Filipino kitchen. It is even considered an official national dish. The meat was traditionally preserved in vinegar and then cooked to make it long-lasting. Nowadays more use is made of soy sauce, vinegar, garlic, bay leaves, and black pepper. The Adobo was traditionally cooked in clay pots also called Palayok. As with so many recipes in the Philippines, the Adobo also differs per region in terms of recipes, for example, coconut vinegar, rice vinegar or sugar cane vinegar can be used. There is even a variant that is prepared without soy sauce, better known as the adobong Puti (white adobo). Adobo can be used with pork, beef, chicken and even fish. In addition to marinating meat, the adobo mix is also used to cook fruit and vegetables such as eggplant, okra, bamboo shoots etc. All this makes the Filipino Adobo the ultimate Stew. This dish can be found at any party and is served with white rice in most cases.
Necessities:
1 bag of 30 gr Adobo sauce mix
½ kilos of meat
3 tbsp oil
1 cup water (250 ml)
Preparation method:
Brown ½ kg of meat in 3 tbsp oil
Verdun McCormick Adobo recipe mix in 1 cup of water
Stir the mixture into brown meat and simmer until the meat is done.
Ingredients:
Maltodextrin, garlic, iodized salt, citric acid, pepper, modified starch, calcium stearate, calcium silicate, sodium diacetate, herbs, spices, annatto and paprika extracts.
Also known as: Adobo Pula Recipe mix with achuete
Country of origin: Philippines
Brand: McCormick
Code: 4806510075035
Content: 30 gr (1.06 Oz)