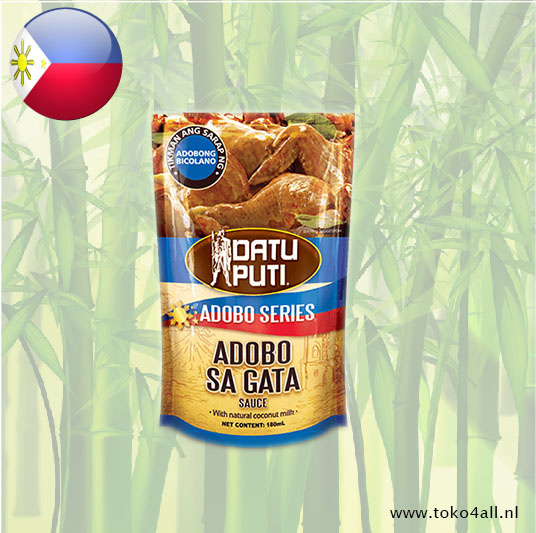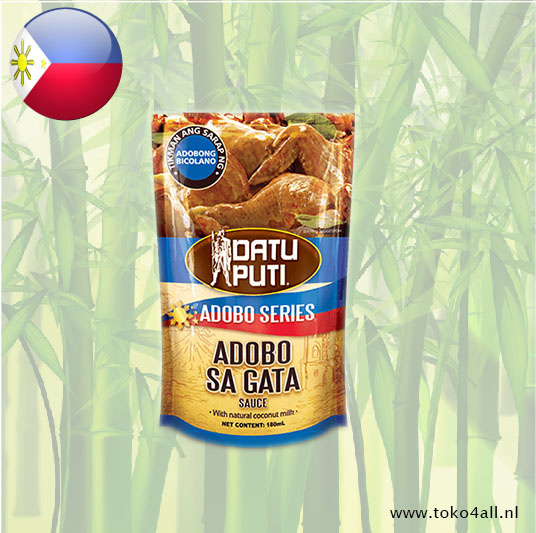 Adobo sa Gata Sauce 180 ml
€3,25
Adobo sa Gata Sauce is a ready-made sauce with which you can quickly and easily put the Philippine Adobo on the table. Delicious with rice and banana blossom.
In stock (22)
(Delivery timeframe:1-3 days)
Adobo sa Gata Sauce
This basic sauce is the same as the traditional adobo preparation, with the only difference that coconut milk has been added to this sauce. This one difference makes it a very different taste sensation. Try it now and enjoy. Of course delicious with fried or boiled rice.
Filipino Adobo
This dish is a very popular dish in Filipino cuisine. It is even considered an official national dish. The meat was traditionally preserved in vinegar and then cooked to give it a long shelf life. Nowadays, more use is made of soy sauce, vinegar, garlic, bay leaf and black pepper. The Adobo was traditionally cooked in the clay pots also called Palayok. As with so many recipes in the Philippines, the Adobo also differs per region in terms of recipe, so coconut vinegar, rice vinegar or sugar cane vinegar can be used as variants. There is even a variant that is prepared without soy sauce, better known as the adobong Puti (white adobo). Adobo can be used with pork, beef, chicken and even fish. In addition to marinating meat, the adobo mix is ​​also used to cook vegetables and fruit such as eggplant, okra, bamboo shoots, etc. All this makes the Philippine Adobo the ultimate stew. This dish can be found at every party and is in most cases served with white rice
Necessities:
1 chicken or pork sliced
1 pack datu puti Adobo sa gata sauce (180 ml)
240 ml water
2-3 pcs green chili peppers (optional)
Salt
How to cook:
In a pan, combine meat and datu puti adobo sa gata sauce
Add 240 ml water and bring to boil
Continue to simmer until the meat is tender, add green chili fingers and salt to taste
Serve hot
Ingredients:
Water, coconut milk, hydrolyzed soy protein, sugar, sugarcane vinegar, garlic, flavor enhancer E621, black pepper, preservative E102.
Also known as: Adobo sa Gata Sauce
Country of origin: Philippines
Brand: Datu Puti
Code: 4801668605950
Content: 180 ml