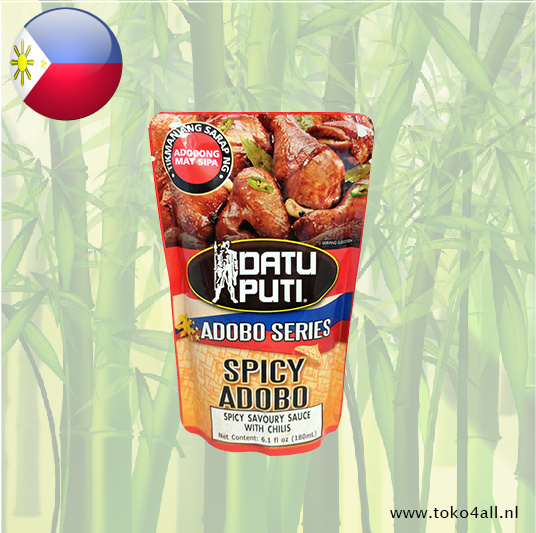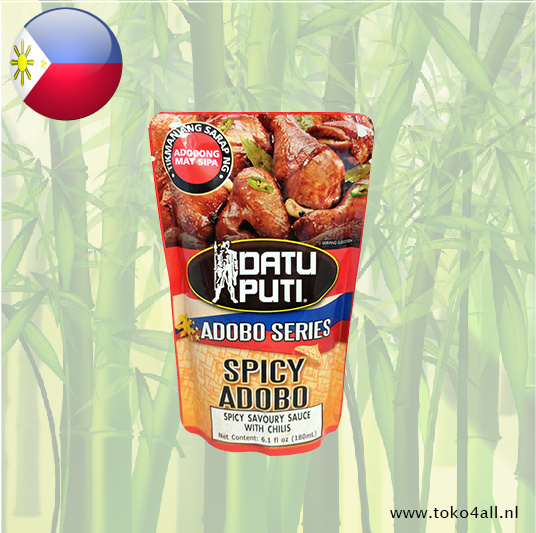 Adobo Spicy Sauce 180 ml
€2,50
Adobo Spicy Sauce is a ready-made spicy sauce with which you can quickly and easily put the Philippine Adobo on the table. Delicious with rice and banana blossom.
In stock (9)
(Delivery timeframe:1-3 days)
Adobo Spicy Sauce
Adobo is a popular dish in Filipino cuisine that can consist of meat, seafood or marinated vegetables with vinegar, soy sauce and garlic. This dish is also unofficially seen as the national dish of the Philippines. The name Adobo is taken from Spanish, but the preparation method is completely Filipino. The use of vinegar in Filipino dishes dates back to the past and was mainly done to extend the shelf life of the dishes. This was at the time when the Adobo was mainly made with pork and chicken. The soy sauce was later added to the original recipe due to the influence of the Chinese traders who ensured that the salt was replaced with it. This dish was traditionally cooked in small clay pots known as the Palayok. The ingredients of traditional Adobo may vary by region, as each region has its own variation on the original recipe.
Necessities:
1/2 kg chicken cutlets, adobo sliced
1/2 kg pork belly, diced
1/2 cup Datu Puti Vinegar
1/2 cup Datu Puti soy sauce
5 cloves garlic, finely chopped
1 tsp UFC Whole Pepper
1 1/2 tablespoons sugar
2 bay leaves
2 cups of water
1/4 cup palm oil
Preparation method:
Marinate chicken and pork in a bowl in Datu Puti Vinegar, Datu Puti Soy Sauce, garlic, UFC Whole Pepper, sugar and bay leaves for at least 20 minutes
In a pot, add chicken and pork with marinade
Add water and bring to a boil
Reduce the heat and simmer for 30 minutes or until the meat is tender
Separate the meat from the sauce
Heat the oil in a separate pan. Fry chicken and pork until crispy and golden brown.
Add chicken and pork to the pan with sauce.
Simmer for 5 more minutes or until sauce has halved.
Ingredients:
Cane vinegar, hydrolyzed soy protein, sugar, flavor enhancer (E621), garlic, chili, iodized salt, black pepper, water, preservative (E211), colorant (E150), yeast extract.
Also known as: Adobo Spicy Sauce
Country of origin: Philippines
Brand: Datu Puti
Code: 4801668605967
Content: 180 ml