Your shopping cart contains products made of glass, please be aware that this is at your own risk.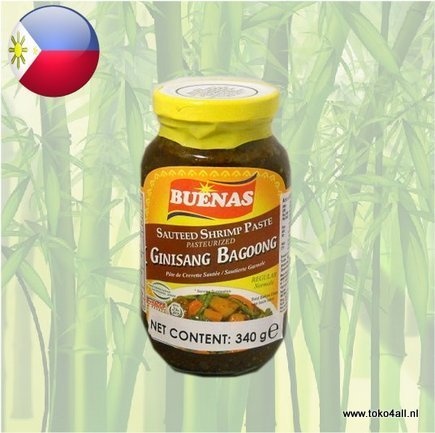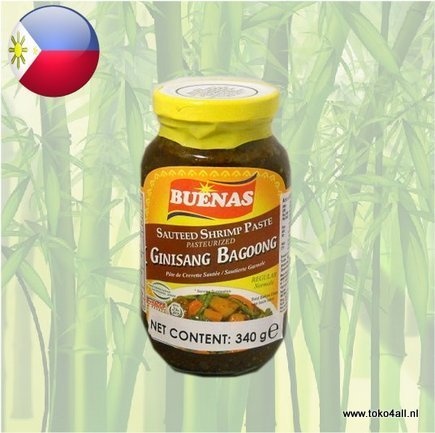 Bagoong Ginisang Regular 340 gr
€3,95
Bagoong Ginisang is a regular fried shrimp paste that serves as a side dish or as an ingredient in many Asian dishes.
Out of stock
(Delivery timeframe:Please contact us)
Bagoong Ginisang Regular
Bagoong Ginisang Regular is a popular traditional condiment from the Philippines. It is a fermented shrimp paste widely used in Filipino cuisine to season dishes and add a unique umami flavor.
Bagoong is derived from the Tagalog word "baguong," which means "fermented." It is typically made from small shrimp, known as "alamang" in Tagalog, that are mixed with salt and then fermented for several days to weeks. The fermentation process gives the shrimp paste a strong, pungent, and salty taste.
Ginisang means "sautéed" in Tagalog, referring to the method of preparing the bagoong. Before it is sold, Bagoong Ginisang Regular is sautéed with garlic, onions, and tomatoes to enhance the flavors and create an aromatic base.
Bagoong Ginisang Regular is commonly used as an ingredient in Filipino dishes such as Kare-Kare (peanut sauce stew), Pinakbet (vegetable stew), and Binagoongan (pork in shrimp sauce). It adds a savory, salty flavor to these dishes, giving them a distinctive Filipino character.
Bagoong Ginisang Regular is usually sold in jars or bottles and can be found in supermarkets and Asian stores, both in the Philippines and in areas with a large Filipino community. After opening, it should be stored in the refrigerator to prolong its shelf life.
It's important to note that Bagoong Ginisang Regular has a strong odor and flavor due to the fermentation process and the presence of shrimp. While it is a beloved ingredient in Filipino cuisine, it may seem unusual to those who are not accustomed to this taste. However, it is highly appreciated by enthusiasts of Filipino cuisine for the distinctive flavor it adds to dishes.
Shrimp pasta
Shrimp pastes have been made in Southeast Asia and South China for centuries. There are, in principle, two forms of shrimp paste. An opaque variant that is also called trassi(e) and a transparent, gelatinous variant that is called Petis Udang in Malay and Indonesian and Bagoong in Filipino.
Production process
The production process of the opaque variant consists of raw shrimp being ground (usually first), after which it is mixed with salt (and sometimes sugar). It is then allowed to ferment for some time. During or after the fermentation period, it is dried in the sun. Most Indonesian and Malaysian shrimp pastes are then compressed into cakes and possibly further dried. With the Chinese and Thai shrimp pastes, the dried cakes are first ground before they are sold. In the transparent variant, finely ground shrimp are first mixed with salt, sugar, and flour, after which it is fermented into a paste. This syrupy, transparent variant is of course not dried.
Both variants can best be stored in a well-sealed jar (glass or PET). Traditional shrimp pastes have a long shelf life due to their high salt content. They can be stored very well at room temperature because they were developed in tropical countries where, for modern times, refrigerators were of course not available.
Ingredients:
Shrimp (80%), salt, corn oil, cane sugar, vinegar, garlic.
Also known as: Sauteed Shrimp Paste Ginisang Bagoong
Land van herkomst: Filipijnen
Merk: Buenas
Code: 4806514650214
Inhoud: 340 gr (12 Oz)
Your shopping cart contains products made of glass, please be aware that this is at your own risk.