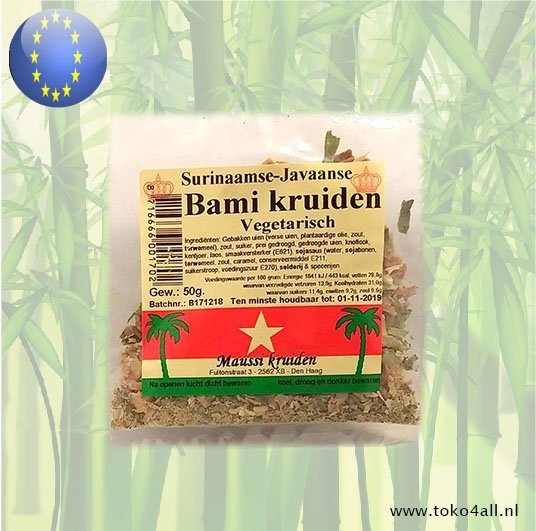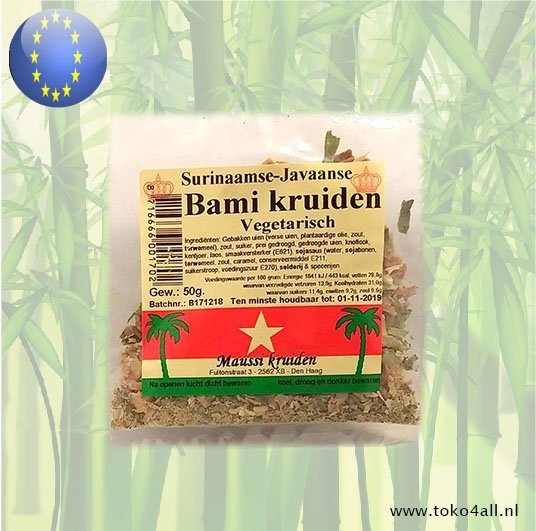 Bami Spice Mix 50 gr BB 01-08-2023
€0,75 €1,10
Bami Spice Mix to make the best noodles in your own kitchen. Easy to use and very tasty
In stock (7)
(Delivery timeframe:1-3 days)
Bami Spice Mix
These noodles are a blend of the best selected herbs and dried vegetables to make your noodles even better. It is a perfectly balanced blend that brings the oriental kitchen to your home. You can make the tastiest noodles yourself in no time at all. Try it yourself and enjoy, 1 full tablespoon of jam herbs is enough to make the most delicious noodles for 1 person.
Recipe Idea: Noodles with chicken
Requirements for noodles:
(5 people)
500 grams of noodles
5 full tablespoons of dried spices
4 tablespoons sweet soy sauce
1 onion cut into cubes
2 cloves of garlic
3 sprigs of leaves
salt pepper
Requirements for Chicken:
(5 people)
1 chicken thigh meat
50 gr ginger puree
5 tablespoons sweet soy sauce
2 tablespoons of oil
1 chopped onion
2 cloves of garlic
3 sprigs of celery leaves
salt pepper
Preparation method:
Cook the noodles until they are al dente and pour them off. To prevent sticking, mix some oil through the noodles
Heat the oil in a pan and fry the onion and garlic together with the contents of the bag of herbs
Add the soy sauce and then add the noodles. Mix the noodles equally well and season to taste with pepper and salt.
Cut the chicken thighs into pieces
Heat the oil in another pan and first fry the onion and garlic.
Then add the ginger with the soy sauce and stir well.
Stir fry the chicken pieces together with the ingredients
Let it simmer until the chicken is tender.
If you want more sauce with the chicken then you can also add some extra water.
Serve the chicken pieces together with the noodles on a plate topped with coarsely chopped celery leaf
Ingredients:
Fried onions (fresh onions, vegetable oil, salt, wheat flour), salt, sugar, leek, dried onions, garlic, lesser galangal, galangal, flavor enhancer (E621), soy sauce (water, soybeans, wheat flour, salt, caramel, preservative E211, molasses, acid E270), celery, and spices.
Also known as: Bami Kruiden Mix
Country of origin: Suriname
Brand: Maussi Kruiden
Code: 8716666001702
Content: 50 gr