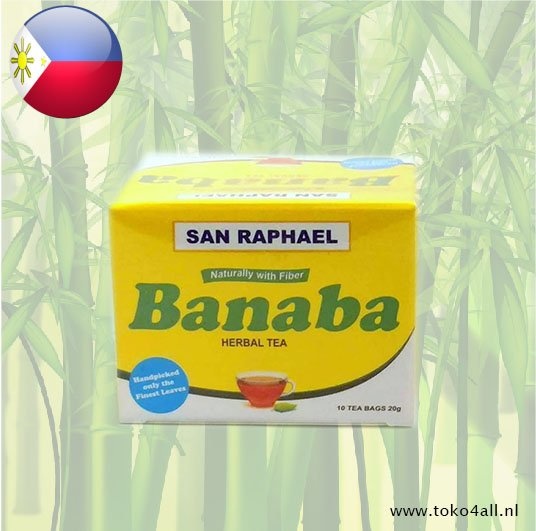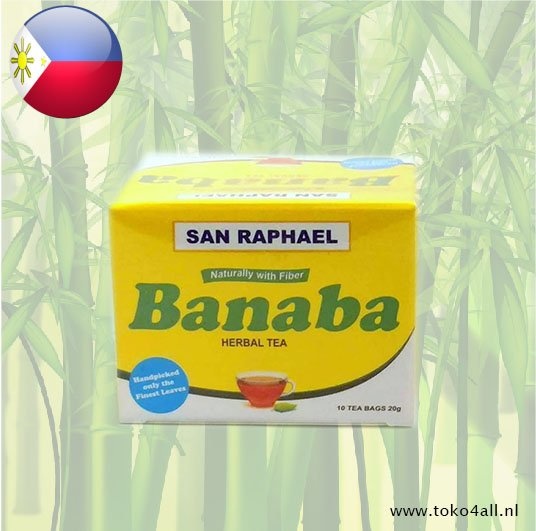 Banaba tea 20 gr
€2,75
Banaba tea from San Raphael is a traditional Asian herbal tea from the Banaba plant with a soft aromatic taste. 100% Natural without additives
In stock (2)
(Delivery timeframe:1-3 days)
Banaba Tea
This tea is made from the leaves of the Banaba plant. This tea is of a very high quality as the leaves are packaged equally after picking, drying and processing. This tea is a natural tea without additives. Full of taste and authentic aroma. 1 box contains approximately 10 bags of 2 gr.
Banaba Tree
The Banaba tree that often occurs in Southeast Asia including the Philippines. The Banaba tree is known for its leaves that are often used in tea and have a medicinal effect on diabetes. The Banaba tree is known by the Latin name Lagerstroemia Speciosa. In the Philippines, the Banaba has been used for years to reduce the symptoms of diabetes and diabetes. The use of this tea would have a number of positive effects on blood sugar levels, blood pressure, abdominal pain, fever, dizziness, asthma, and weight problems.
Preparation
Pour freshly boiled water over a tea bag in a cup
Cover cup and allow brewing for 5-10 minutes
Add sugar, calamansi/lemon if desired
Storage
Store the tea in a cool and dry place.
San Raphael Herbal Products
Banaba herbal tea is a product of San Raphael Herbal Products. This business is located at the foot of the Banahaw mountain in Tayabas, Quezon province on the island of Luzon, in an area known for the organic cultivation of herbs.
Ingredients:
Banaba leaves
Also known as: Banaba
Country of origin: Philippines
Brand: San Raphael
Code: 4809010512048
Content: 10 x 2 gr