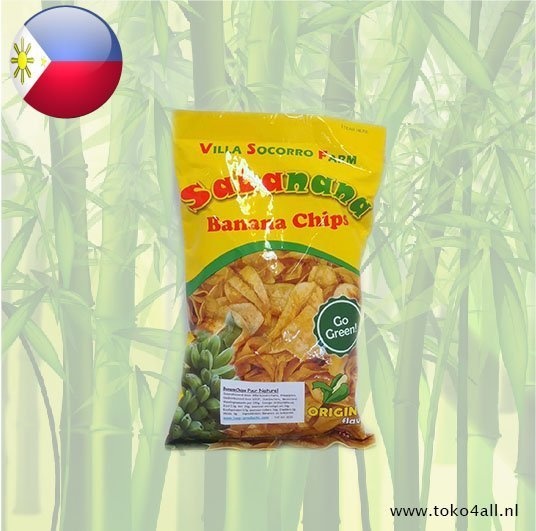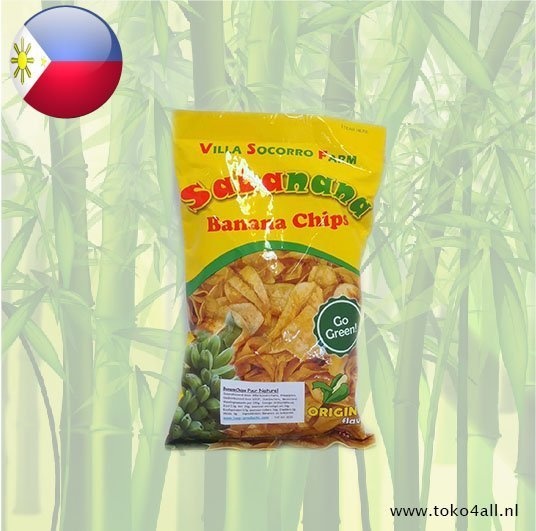 Banana chips Original 100 gr
€2,25
Banana chips Original is a delicious healthy snack from the Philippines without the intervention of fertilizer and chemical pesticides
In stock (7)
(Delivery timeframe:1-3 days)
Banana chips Original
These banana chips are made from naturally grown Filipino Saba (bananas). The bananas grow in a natural environment without the use of fertilizer and chemical pesticides. Besides being used as a snack, the banana chips are also delicious to use in a muesli breakfast or a fresh salad.
Usage tip!
Delicious snack
Side dish
Muesli
Breakfast
Salad
Storage tips
Store Banana chips in a dry, cool place. After opening, they have a limited shelf life
Villa Socorro
Bananen is het meest voor komende fruit in de Filipijnen. De teelt van de bananen die door Villa Socorro worden verwerkt is volledig natuurlijk, zonder gebruik van chemische bestrijdingsmiddelen. Villa Socorro ligt in de plaats Pagsanjan in de provincie Laguna in de Filipijnen en teelt zelf bananen. Daarnaast worden bananen aangeleverd door kleine boeren in de omgeving van Villa Socorro. De boeren verbouwen naast bananen nog groenten en mais of rijst voor lokale consumptie. Villa Socorro stelt aan de boeren gratis nieuwe aanplant ter beschikking en betaalt voor de bananen een faire prijs.
Ingredients:
Fresh bananas, vegetable oil
Also know as: Sabanana Bananen chips Original 100 gr Villa Socorro Farm
Country of origin: Philippines
Brand: Villa Socorro Farm
Code: 4809014471013
Content: 100 gr