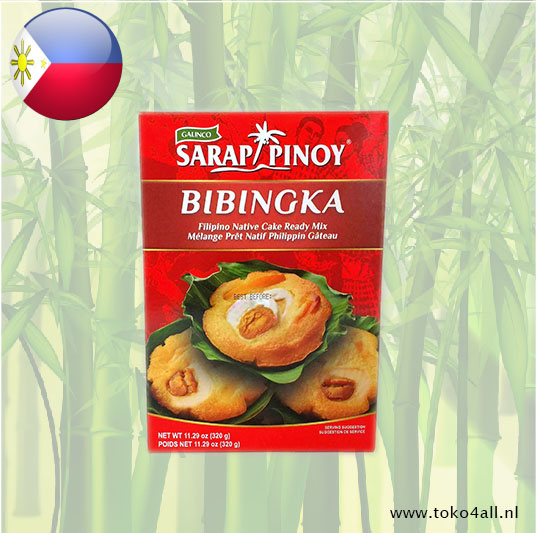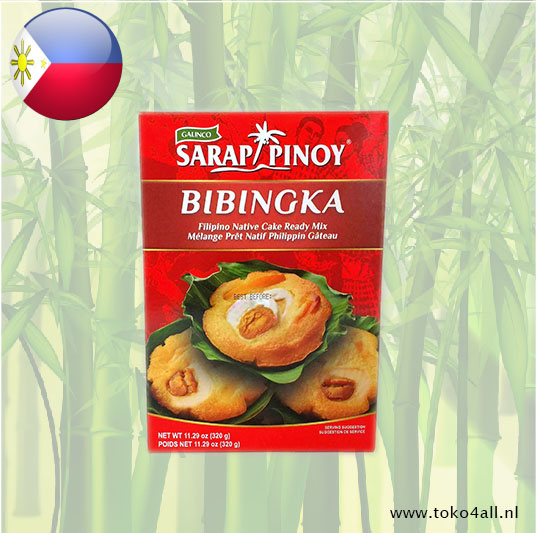 Bibingka Mix 320 gr
€3,95
Bibingka Mix from Sarap Pinoy is a Filipino rice cake mix that is traditionally eaten a lot during the Christmas season.
Out of stock
(Delivery timeframe:Please contact us)
Bibingka Mix
Bibingka Mix is a Filipino rice cake. The Filipino population does like sweets and the Bibingka is no exception. It is a rice cake with a topping of cheese and salted eggs. It is served with butter, sugar and grated coconut. Bibingka is traditionally cooked in clay pots with banana leaves.
Taste and texture
Bibingka has a soft airy structure that is somewhat reminiscent of puto or an airy cake. Puto is a steamed cake that has also earned a place in traditional Filipino cuisine.
Necessities:
2 large eggs
2 tbsp soft butter or margarin
125 ml of water
Round baking tin of 20 cm
How to cook:
Preheat the oven to 180 ° C and grease the baking tin with butter and margarine
Dissolve coconut powder in 125 ml of water.
Beat 2 large eggs in a bowl and mix in bibingka mix, butter and coconut mixture until no lumps are visible
Pour the batter into the pan and bake for 30-35 minutes.
Test the baking with a toothpick, insert it in the center and it should come out clean
* for extraordinary bibingka, line shape with banana leaf and fat with butter and top with salted egg and cheese
Ingredients:
Sugar, wheat flour, coconut powder, iodized salt, raising agents E500, E341, E450, milk powder, artificial flavor, and coloring E102.
Also known as: Bibingka Mix
Country of origin: Philippines
Brand: Sarap Pinoy
Code: 4800552169073
Content: 320 gr.