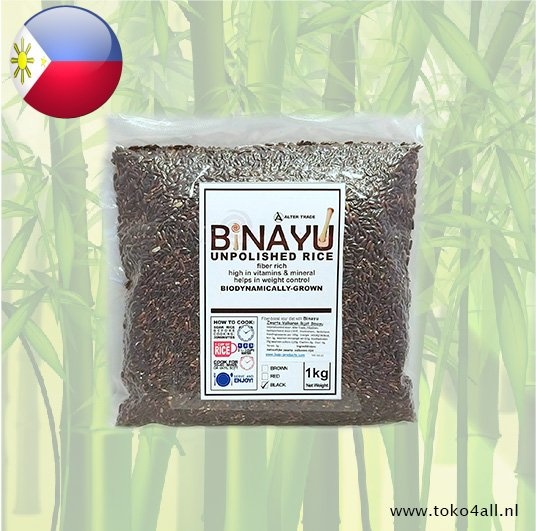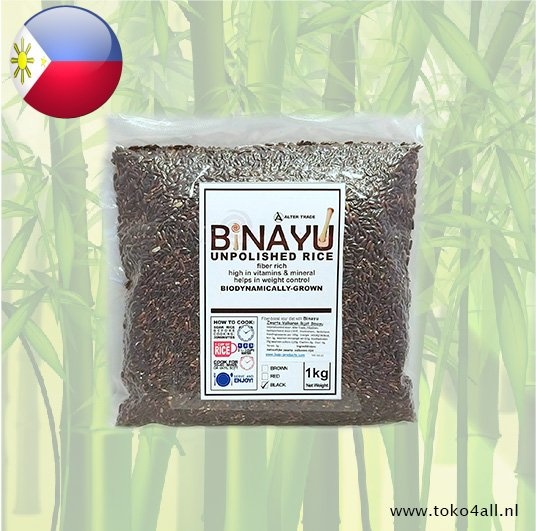 Black Organic Wholegrain Rice 1 kg
€6,95
Black Organic Wholegrain Rice from Binayu is a non-pre-cooked natural whole grain rice from the Philippines.
In stock (4)
(Delivery timeframe:1-3 days)
Black Organic Wholegrain Rice
In ancient China black rice was nicknamed: forbidden rice. Only the emperor was allowed to eat this black rice. Nowadays, this black rice is eaten mainly because of the many vitamins E in it and the high content of anthocyanin, an antioxidant better known from blue and black berries. Forced rice has the advantage of less sugar and more fiber compared to berries.
According to Louisiana State University research presented in 2010, these anti-oxidants reduce bad cholesterol in the blood and black rice would be good for cardiovascular disease. The Forbidden Rice has a natural full flavor, typified as slightly nutty. When cooking, the color of this black rice changes to deep purple.
How to use?
Natural with fish, meat, ragout
With Asian dishes
In wok dishes
How to prepare?
Let the rice soak for about 30 minutes
1 cup of rice on approximately 1½ cup of water
Boil the rice in about 30 to 40 minutes until done
Serve and enjoy!
Storage tips
Keep the rice in a dry place
Store in a closed container after opening
Binayu
Binayu is the brand of the Filipino Don Bosco Foundation for Sustainable Development (DBFSD). The organization was established in 1988 to combat the problem of poverty among the youth of the countryside. Nowadays, the organization does not just focus on youth, but on the entire agricultural family and develops various initiatives in the field of agriculture. Don Bosco started sustainable agriculture in 1990. The rice is grown without artificial fertilizer and chemical pesticides, 100% natural.
The Don Bosco Foundation for Sustainable Development is located in North Cotabota on the island Mindanao of the Philippines.
Ingredients:
100% organic whole grain rice
Also know as: Zwarte Biologische Volkoren Rijst
Country of origin: Philippines
Brand: Alter Trade
Code: 0270193
Content: 1000 gr