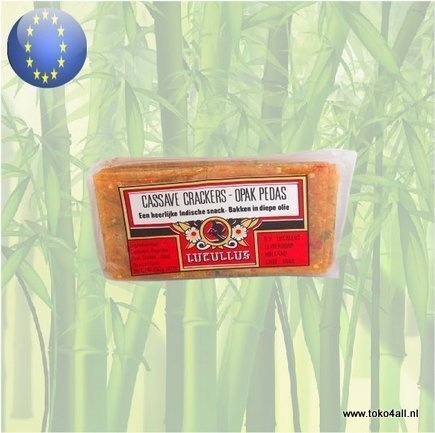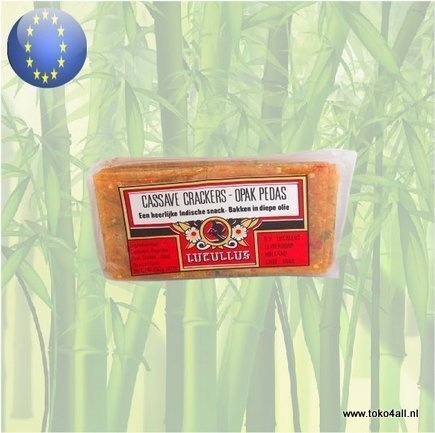 Cassava Crackers Opak Pedas 250 gr
€1,95
Cassava crackers to bake yourself. These delicious crackers are slightly spicy and fun to bake yourself. Mmmm wonderfully fresh ...
In stock (1)
(Delivery timeframe:1-3 days)
Cassava Crackers Opak Pedas
The cassava crackers are raw and still have to be baked. This is not in itself a problem and a lot of fun. The cassava has a size of 7 x 7 cm in unbaked form.
Cassava
Cassava also called Manioc is a root tuber of the Manihot Esculenta. The plant contains a lot of starch and is particularly nutritious. Cassava flour is gluten-free and can replace wheat flour. Tapioca and fufu are made from the cassava root flour are very starchy. The leaves of the cassava plant are prepared in some countries as spinach. In the Netherlands, you can buy the root tubers in the supermarkets or as with us as a shop. The cassava root can be harvested throughout the year. The roots and tubers contain a lot of starch and sugar. Since the root undergoes a rapid chemical change after the harvest, the harvest must be processed within 2 days.
Preparation method
Heat your oil in a pan, this only needs to be a small layer of 3 to 5 cm.
Carefully place the crackers in the hot oil, wait until it is completely unfolded and then remove it immediately.
Put the crackers on kitchen paper to let the fat in.
Ingredients:
Cassava, Bell Pepper, Leek, Sugar, Salt, Spices.
Also known as: Cassave Crackers, Casava, kroepoek Singkong
Country of origin: Europe
Brand: Lucullus
Code: 8710853060602
Content: 250 gr.