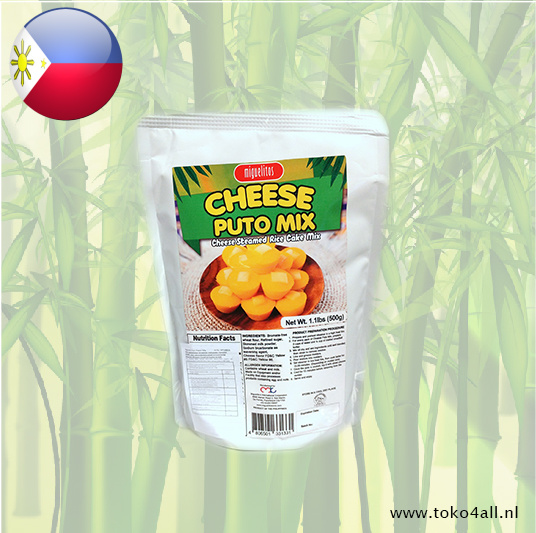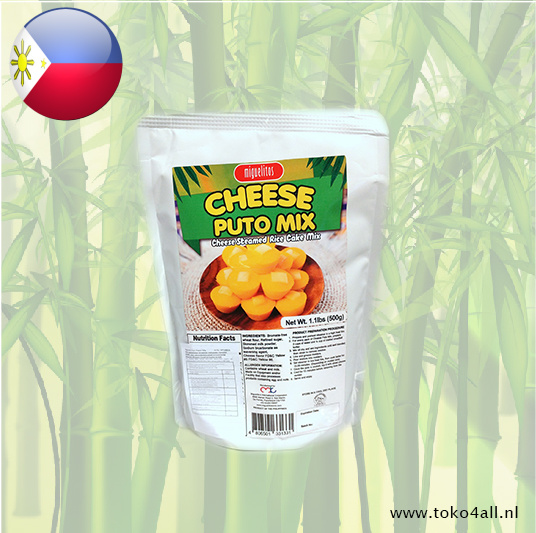 Cheese Puto Mix 500 gr BB 12-08-2023
€5,95 €7,95
Cheese Puto Mix from Miguelitos is a Filipino delicacy. Easy to make and healthier than the normal cake types.
In stock (3)
(Delivery timeframe:1-3 days)
Cheese Puto Mix
Puto is a type of steamed rice cake mix, usually served as a snack or as an accompaniment to savory dishes such as dinuguan or pancit in Philippine cuisine. It is made from rice flour mixed with coconut milk and sugar. You can vary the steam cake in many ways, for example by adding cheese as a topping. You can also add aromas such as pandan, coconut and you can give it different colors so that it stands out and looks colorful. The puto is also delicious as a snack. Cheese Puto Mix from Miguelitos is easy to make and much healthier than the traditional cake as we know it. The structure is airy and soft and does not need to be prepared in an oven. It is best to prepare this mix in a steamer, in ramekins or one baking tin.
Preparation method:
Prepare and pre-heat steamer in a high heat fire
For every pack of cheese puto mix, prepare 2 cups (473 ml) of water and 1/4 cup (57 gram) melted unsalted butter
Mix all dry and wet ingredients until well blended, then strain to remove residue.
Line and grease molders
Set steam in low heat fore, then cook batter for 15-20 minutes (depending on molder size)
Once the puto is cooked, top it with sliced cheese
Cool for 15 minutes before removing from the molder
Serve and enjoy
Ingredients:
Bromate-free wheat flour, refined sugar, skimmed milk powder, sodium bicarbonate as a leavening agent, cheese flavor, coloring E102, E100.
Also known as: Cheese puto mix Cheese steamed rice cake mix
Country of origin: Philippines
Brand: Miguelitos
Code: 4806501331331
Content: 500 gr (1.1lbs)