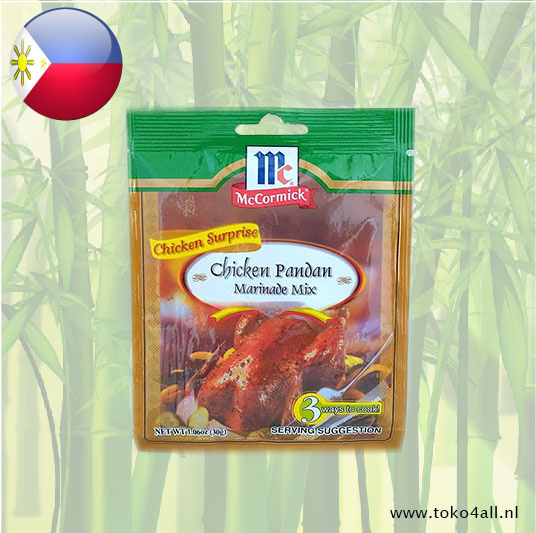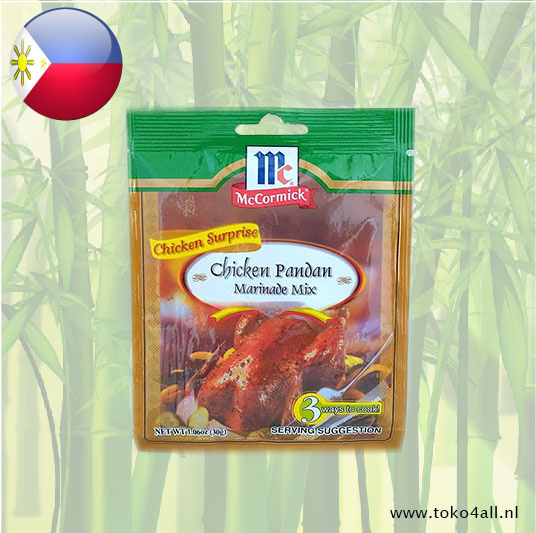 Chicken Pandan Marinade Mix 30 gr
€1,50
Chicken Pandan Marinade Mix is a natural blend of pandan flavor and special marinating ingredients that gives a delightful aroma to your dish.
In stock (46)
(Delivery timeframe:1-3 days)
Chicken Pandan Marinade Mix
From a tradition of good home cooking, here's a fast and easy to use marinade mix from choices spices and seasonings that would surely put more flavor in your chicken dishes-anyway you want it. Now you can roast, turbo boil, microwave or even deep-fry your chicken with chicken pandan marinade mix.
All you need:
1 whole chicken
1 pack chicken pandan marinade mix
60 ml water
How to prepare:
Clean chicken and drain
Dissolve marinade mix in water
Marinate chicken for at least one hour*
Oven roast, turbo broil, or microwave as per chart below
Oven Roast**: 180°C / 1 hr
Turbo Broil**: 150° / 30 mins
Microwave***: High heat / 8 mins
* For best result marinate overnight
** Preheat for 15 minutes
*** Brown chicken parts in small amount of oil over high heat before cooking in microwave
Ingredients:
Iodized salt, sugar, corn, maltodextrin, natural chicken flavors (soy, wheat), E621 E631, E627 (flavor enhancers), E451 sodium tripolyphosphate (to retain moisture), lactose (milk), calcium stearate E470 (anti-caking agent), garlic, artificial pandan flavor, onion, soy sauce powder (soybean, wheat), xanthan gum, soybean oil, natural smoke flavors (soy), caramel color E150a, spices, citric acid E330 (acidulant).
Also known as: Chicken Surpise Chicken Pandan Marinade Mix
Country of origin: Philippines
Brand: McCormick
Code: 4806510070030
Content: 30 gr (1.06 Oz)