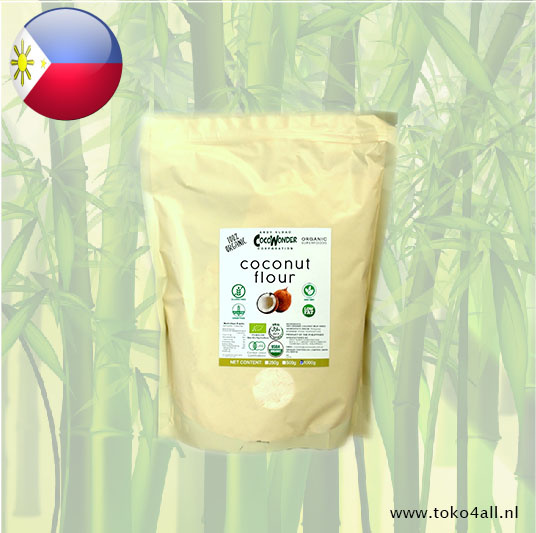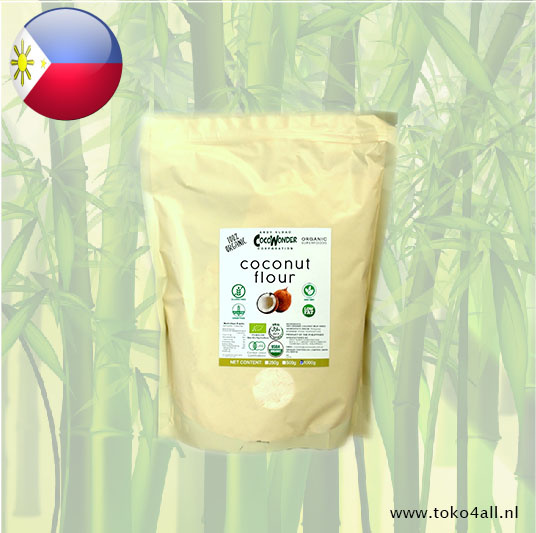 Coconut flour 1 kg
€5,50
Coconut flour from Coco Wonder is, in essence, the dried fruit flesh coconut in powder form. Rich in fiber and 100% natural without additives and gluten-free.
In stock (1)
(Delivery timeframe:1-3 days)
Coconut Flour
Coconut flour is made from defatted coconut meat. The coconut oil is first extracted from the coconut meat by cold pressing. The residue is dried and ground into coconut flour. Coconut flour is very rich in fiber and has a sweet creamy coconut flavor. Gluten-free and therefore an excellent alternative for partial replacement of wheat flour. Coconut flour is excellent for use in baking products. Baking flour can be replaced by coconut flour for a quarter. The chef flour adds a delicious slightly sweet taste, which means less sugar has to be used. Add between 10 and 20% to any type of flour when cooking or baking with standard recipes.
Any other applications are:
Sprinkle over your muesli to add nutrients and fiber to your diet
Add to porridge, smoothies, and desserts.
Add to your casseroles and soups.
Use as a binder in sauces and gravy.
Improve the texture of your baking
Strengthen the taste of chocolate and vanilla dishes and baking.
Storage tips
Coconut flour can be kept the same as wheat flour. After opening the package, preferably in a closed container in a dry cool place.
Cocowonder
Cocowonder specializes in the processing of coconuts into a wide variety of absolute quality products. The company works with groups of farmers in organic farming and sustainability. It has 2 smaller production facilities in the south of Luzon. Cocowonder supports farmers in implementing sustainable-oriented methods in organic farming. This has resulted in a better income for farmers and employment in rural areas.
Ingredients:
The pure flesh of coconuts
Also know as: Kokosmeel
Country of origin: Philippines
Brand: CocoWonder
Code: 480263925522
Content: 1000 gr