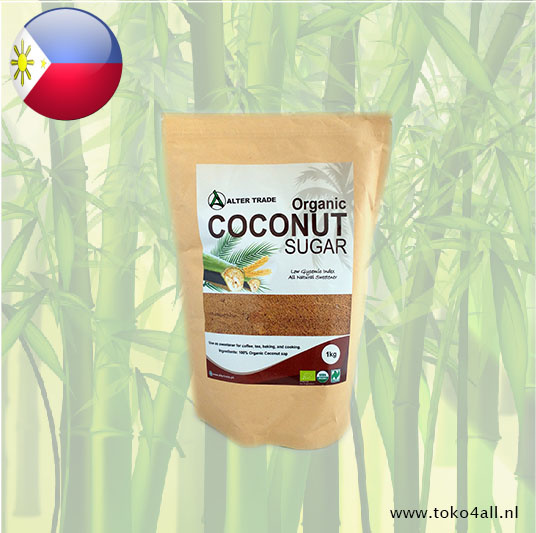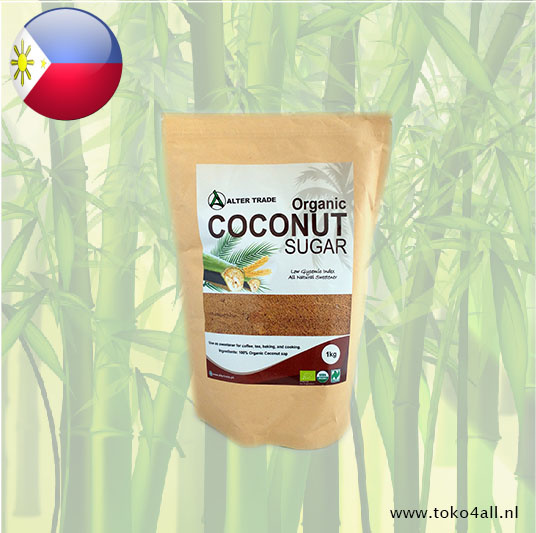 Coconut sugar 1 kg
€10,95
Coconut sugar from Alter Trade is a sugar made from the nectar from the blossom of the coconut palm trees and is a 100% organic product.
In stock (4)
(Delivery timeframe:1-3 days)
Coconut Sugar
This 100% pure coconut blossom sugar is made from the nectar from the blossom of coconut palm trees and is a natural substitute for almost all other sugars and sweeteners. It has a velvety caramel flavor and is rich in vitamins and fibers. Coconut blossom sugar is easy to process, dissolves quickly in liquids and has a pleasant sweet taste.
Exclusive natural sugar
Velvety sweet caramel taste
Rich in vitamins and fiber
Very tasty in coffee, tea, biogarde, desserts, muesli
Makes cakes special
100% Organic and sustainably produced
Coconut blossom sugar is delicious in:
Coffee Tea
Yogurt
Deserts
Pastry
Muesli
Tip: sprinkle coconut blossom sugar over fresh strawberries
Because of the low glycemic index, coconut blossom sugar is also suitable for diabetics. Coconut blossom sugar has a low glycemic index of 35. The glycemic index (GI) of food is a classification based on the immediate effect of food on blood sugar levels. GI index is a measure of the rate at which carbohydrates are digested. Food with carbohydrates (including sugars) that break down quickly during digestion has a high GI. Foods with carbohydrates that slowly break down and gradually release glucose in the bloodstream, have a low GI. So food with a low GI will give more spread energy. Carbohydrates (including sugars) provide energy and a constant supply of sugar is important for the brain and for our efforts. Coconut blossom sugar contains predominantly slow sugars.
Storage tips
Store the coconut blossom sugar in a dry place. Store in a closed container after opening. Very long shelf life
Ingredients:
Coconut blossom sugar.
Also know as: kokos suiker, cocos bloesem suiker, kokosbloesemsuiker
Country of origin: Philippines
Brand: Alter Trade
Code: 0170072
Content: 1 kg