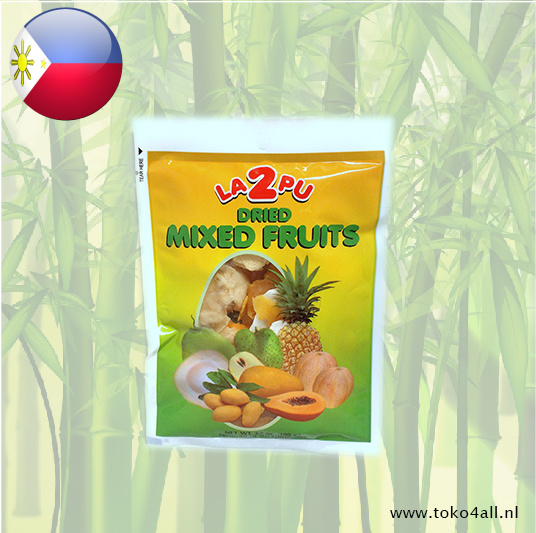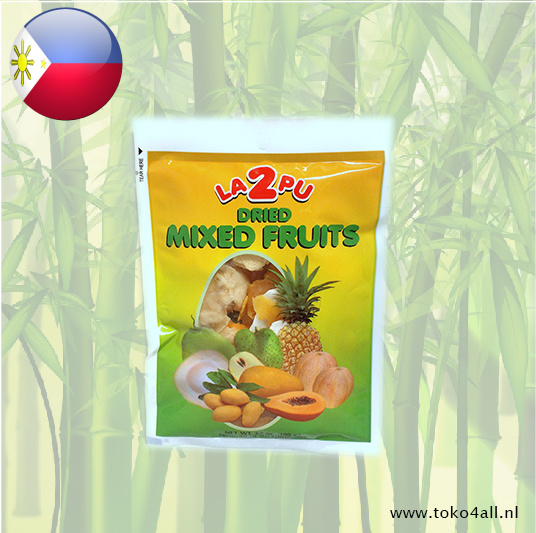 Dried Mixed fruits 100 gr
€3,50
Dried mixed fruit from LA2PU is a healthy alternative to various candy types. A wonderful combination of mango, coconut, pineapple, papaya, melon, soursis in dried form.
In stock (9)
(Delivery timeframe:1-3 days)
Dried Mixed fruits
LA2PU brings you this dried mixed fruit. Directly from the families in the Philippines the best dried fruits in the world! All our Philippine fire dried fruits are 100% native just like the 7,107 islands. The own preparation process and the unparalleled deployment guarantees quality in every package. For this product, use has been made of the best quality fruits that the Philippines has to offer. Taste and enjoy the natural taste of, among other things, the pineapple and imagine yourself on a tropical island on your lazy chair under the Palm Boom.
A delicious snack for in between
Rich in vitamins, minerals, and antioxidants
Suitable for processing in many dishes, salads, and pastries.
Use
Healthy snack
Muesli breakfast
In salads, dishes, desserts, pastries.
Ingredients:
Fresh mangoes, fresh pineapples, fresh papayas, fresh melons, fresh citruses, fresh coconuts, sugar, and sodium metabisulfite (to protect color)
Also known as: Dried mixed fruit
Country of origin: Philippines
Brand: La2Pu
Code: 4538020000107
Content: 100 gr (3.5 Oz)