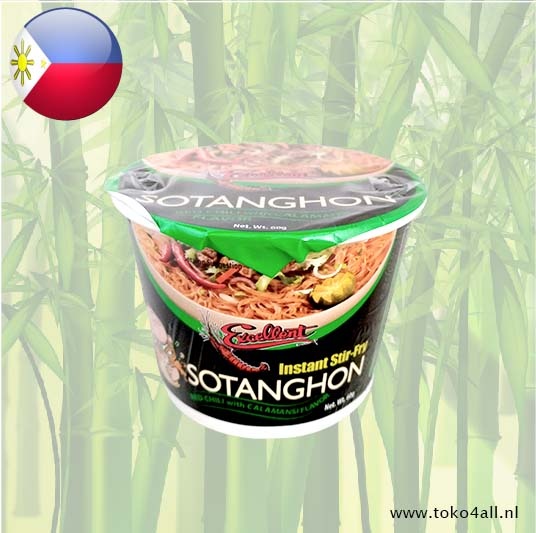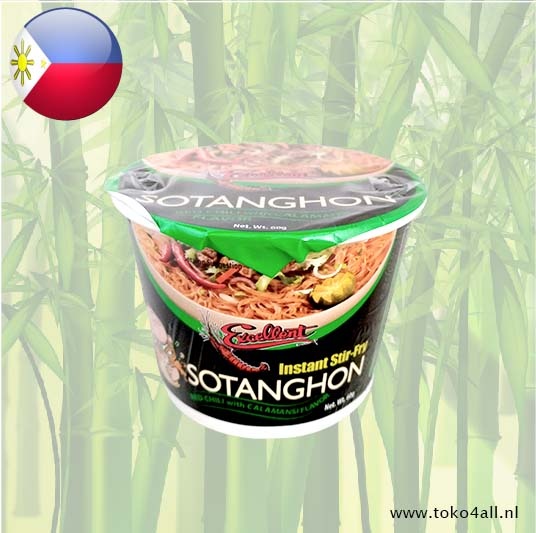 Instant Stir-fry Sotanghon Red Chili with calamansi 60 grBB 10-11-23
€1,00 €1,65
Instant Stir-fry Sotanghon Red Chili with calamansi is an instant stir-fried noodle dish that uses sotanghon noodles, also known as glass noodles, as the main ingredient.
In stock (5)
(Delivery timeframe:1-3 days)
Instant Stir-fry Sotanghon Red Chili with calamansi
Sotanghon is a traditional Filipino noodle made from mung beans. It is known for its translucent and elastic texture, making it perfect for stir-fry dishes. Excellent's Instant Stir-fry Sotanghon is a convenient and quick-to-prepare dish, as the noodles are already pre-cooked and you only need to add water to hydrate them.
The addition of red chili gives the dish a spicy flavor that is characteristic of Filipino cuisine. Red chili is a commonly used spice in Filipino culinary tradition, adding a fiery kick to dishes. It also imparts a delightful aroma to the noodles, enhancing their taste.
Calamansi is a small citrus fruit that is widely used in Filipino cuisine. It has a sour and refreshing flavor, similar to a combination of lime and mandarin. Calamansi juice is often used as a flavoring or topping for various dishes and beverages. In this dish, calamansi adds a touch of citrusy freshness, elevating the flavors.
With Instant Stir-fry Sotanghon Red Chili with calamansi, you can enjoy a delicious Filipino dish in a short amount of time. It offers convenience and authenticity in one package, making it a popular choice for lovers of Filipino cuisine, both in the Philippines and beyond.
Instructions:
1. Remove the sotanghon noodles and vegetables from the plastic packaging. Place them directly in a bowl.
2. Pour boiling water over them and cover for 3-5 minutes. Allow them to drain.
3. Add the seasonings and oil to the bowl.
4. Mix well. Serve hot and enjoy.
Ingredients:
Sotanghon:
Mung bean, potato starch
Seasonings:
Artificial flavorings, sugar, iodized salt, spices (onion, garlic, black pepper, celery, chili flakes), maltodextrin, monosodium glutamate, calamansi flavor (calamansi fruit extract, maltodextrin), coloring (caramel powder), soy sauce powder (soy sauce (wheat, soybeans), salt, anticaking agent (silicon dioxide))
Oil packet:
Vegetable oil (may contain coconut oil, palm oil, or palm kernel oil), spices (onion and garlic), antioxidant (TBHQ)
Vegetable packet:
Dehydrated vegetables (carrot, leek, and chives)
Also known as: Instant Stir-fry Sotanghon Red Chili with calamansi
Country of origin: Philippines
Brand: Excellent
Code: 4800124090354
Content: 60 gr