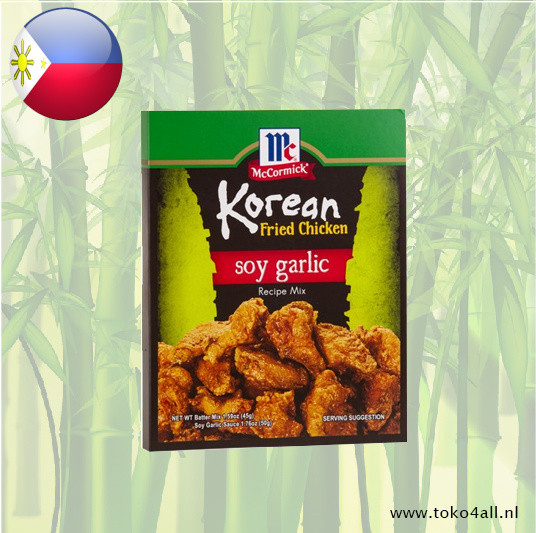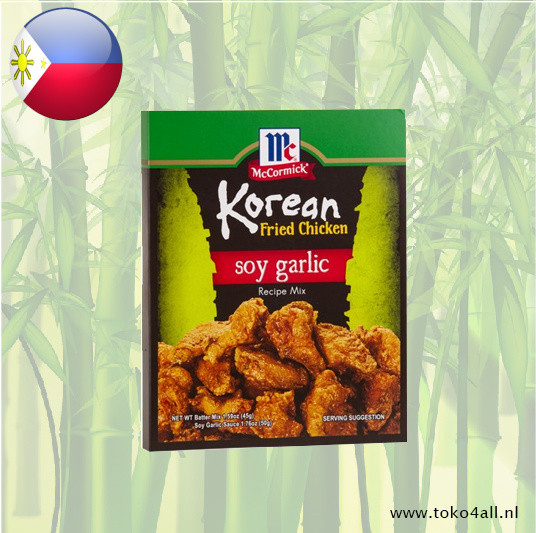 Korean Fried Chicken Soy Garlic 95 gr
€3,50
Korean Fried Chicken Soy Garlic is a mix of ingredients to easily and delicious make your own meat dish with the aroma of soy and garlic
Out of stock
(Delivery timeframe:Please contact us)
Korean Fried Chicken Soy Garlic
McCormick Korean Fried Chicken Soy Garlic Mix lets you enjoy the mild and savory flavor combination of soy sauce and garlic in one easy-to-prepare recipe mix.
Necessities:
½ kg chicken
Oil for frying, preheat over medium heat.
Preparation method:
Open package 1. Dilute batter mixture in ¼ cup (60 ml) water.
Coat ½ kilo of chicken and deep-fry.
Place newly fried chicken in a container.
Open Pack 2. Pour the sauce immediately.
Close the lid and Shake!
Ingredients:
Batter mix:
Tapioca starch, cornstarch, modified cornstarch, salt, wheat flour, herbs, soybean oil
Soy garlic sauce:
Soy sauce, sugar, water, modified cornstarch, preservative E270, garlic, preservatives E202, E211, thickener E415
Also known as: Korean Fried Chicken Kimchi
Country of origin: Philippines
Brand: McCormick
Code: 4806510077060
Content: 95 gr