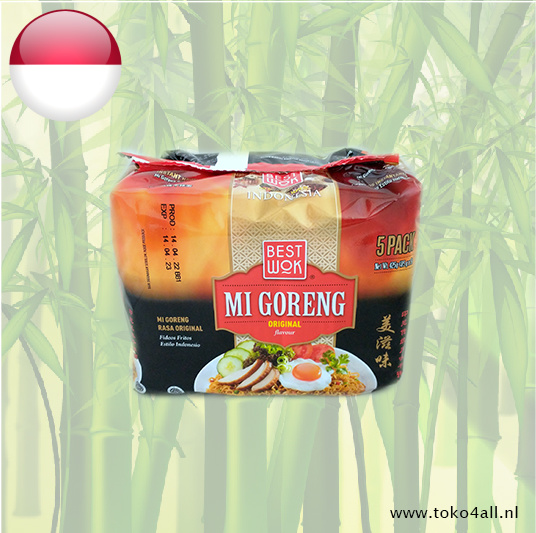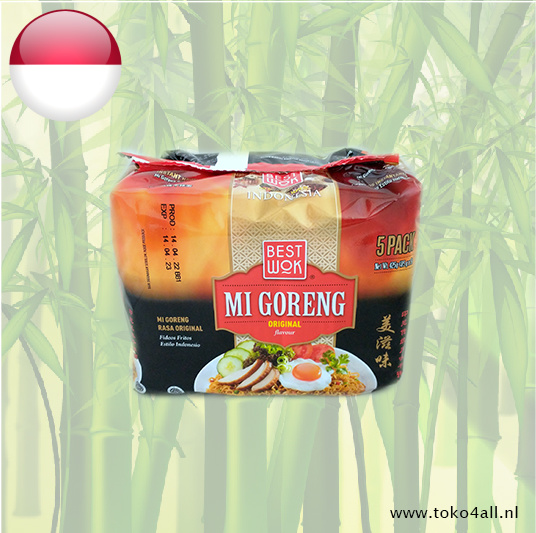 Mi Goreng Original 5 Pack 425 gr
€2,95
Mi Goreng Original from Best Wok are mi goreng noodles that bring Indonesian cuisine to your home. Tasty and easy to prepare.
In stock (2)
(Delivery timeframe:1-3 days)
Mi Goreng Original 5 Pack
Best Wok Mi Goreng Original is a perfect combination of abundant garlic and onions in our fragrant onion oil, and quality sweet soy sauce mixed with other spices in our seasoning powder. Add your favorite toppings as desired to be paired with the delectable noodle texture of Best Wok Mi Goreng.
Preparation method:
Boil the noodles in fresh boiling water (400 ml) and let it boil for 3 minutes
Mix the ingredients on a plate the noodles are cooked
Remove the noodles from the water and drain well
Add the noodles to the rest of the ingredients and mix well. The noodles can now be served
Ingredients:
Noodles:
Wheat flour, palm oil, salt, stabilizers (E452vi, E412), raising agents (E501i, E500i).

Seasoning powder:
Sugar, salt, flavor enhancers (E621, E627, E631), herbs, chicken flavor, caramel (E150d), hydrolyzed vegetable protein, anti-caking agent (E551).

Seasoning oil:
Palm oil, onion, garlic.

Sweet soy sauce:
Sugar, water, salt, soybeans, wheat, preservative sodium benzoate (E211).
Chili sauce:
Water, sugar, salt, chili, modified starch, garlic, vinegar, preservative sodium benzoate (E211).

Fried shallot shallot and palm oil.
Also known as: Mi Goreng Original
Country of origin: Indonesia
Brand: Best Wok
Code: 8991688890637
Content: 5 x 85 gr (425 gram)