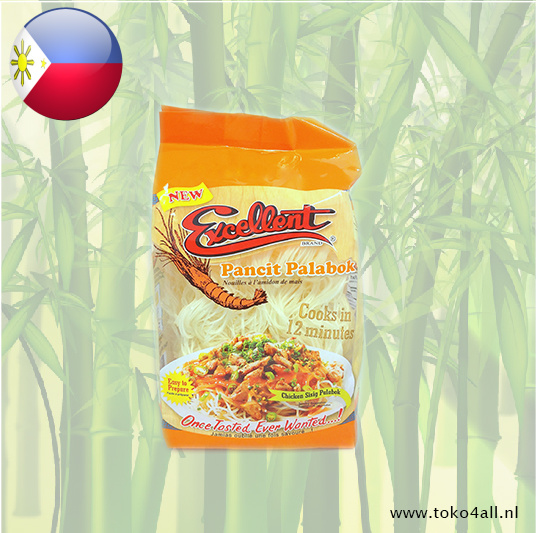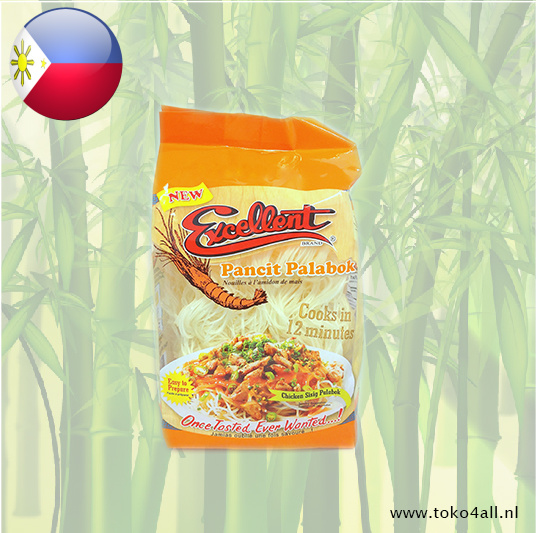 Palabok Cornstarch Sticks 454 gr
€2,60
Palabok corn starch noodles can be compared to Bihon Noodles, only slightly thicker. These noodles are delicious in combination with, for example, the Palabok sauce.
In stock (2)
(Delivery timeframe:1-3 days)
Palabok Cornstarch Sticks
These noodles are perfect for the traditional Filipino Palabok dish. Palabok is a noodle dish with a shrimp sauce and topped with boiled shrimps, boiled pork, finely ground Chicharon, fried tofu, spring onions and fried garlic.
How to prepare?
Necessities:
1 bag of Mama Sita's palabok mix
750 ml of water
227 gr Palabok Noodles or Rice Noodles (Bihon)
45 ml Oil (3 tablespoons)
30 gr Pressed garlic
125g Coarse piece of picked fish (e.g. smoked mackerel)
2 liters of water
30 ml Oil
45 g Deep fried garlic
125 gr Picked boiled chicken
15 gr Spring onion cut
15 g Chicharon or Shrimp crackers Roughly crumbled
30 g Lime or Calamansi slices
2 pcs hard boiled eggs
Possibly Fish Sauce (patis)
Preparation method:
Dissolve the Mama Sita's Palabok mix in 750 ml of water
Fry the crushed garlic and add it to the sauce with half of the plucked fish
Bring it to a boil and keep stirring well
Reduce the heat and let the sauce simmer until thicker
Remove it from the heat and set it aside
Bring 2 liters of water and 2 tablespoons of oil to the boil and add the noodles
Cook the noodles briefly until cooked
Drain and rinse the noodles with water
Mix the noodles with 1 tablespoon of oil to prevent the noodles from sticking
Place the noodles on a platter, possibly with a banana leaf.
Pour the sauce over the noodles and garnish with boiled egg slices, roasted garlic, plucked chicken, chopped spring onions, plucked fish, crushed chicharon or prawn crackers, lime or calamansi slices.
Serve with fish sauce (patis) if necessary.
Ingredients:
Cornstarch, water.
Also known as: Cornstarch noodles, maisnudeln, maïs-mi, nouilles de maïs, Special Palabok
Country of origin: Philippines
Brand: Excellent
Code: 4800124413412
Content: 454 gr (16 Oz)