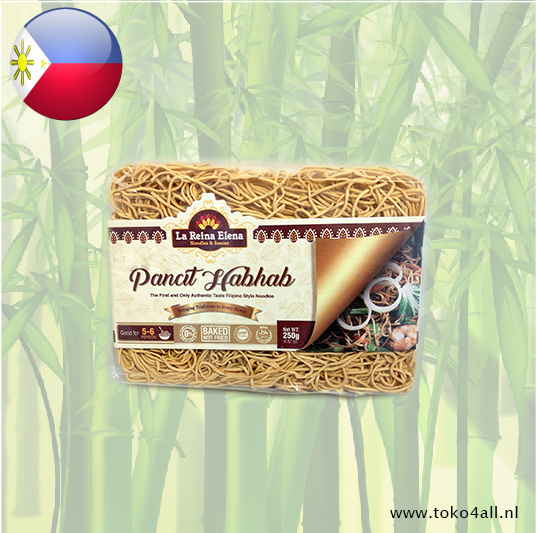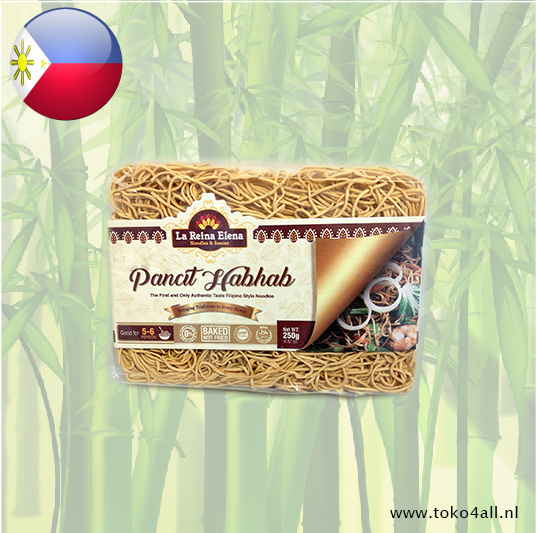 Pancit Habhab 250 gr
€2,50
Pancit Habhab from La Reina Elena are thin dried fried noodles, delicious as a variation in your kitchen
Out of stock
(Delivery timeframe:Please contact us)
Pancit Habhab
The delicious thin, dried and fried noodles originate from Lucban, Quezon, one of the famous tourist destinations of the Philippines for the "Pahiyas Festival" in the summer. The main ingredients of such a local delicacy of fried noodles are made from the finest wheat flour, sea salt and water. Rolled up and thinly sliced to get its distinctly traditional flavour. Best eaten with spicy vinegar or calamansi (Filipino lemon) served on banana leaf.
Cooking instructions:
Necessities:
1,5 tbsp minced garlic
1 Medium size white onion rings
1 Medium size sliced red onion
4 cups of fresh chayote
4 cups slice fresh bok choy (chinese cabbage)
4 cups sliced fresh carrots (julienne)
4 tbsp cooking oil
1 tbsp black pepper ground
Soy sauce to taste
Spring onion
Procedure:
Saute garlic, red onion, chayote, carrots, and add 1 tbsp soy sauce. Cook vegetables to desired crisp and set aside
In a separate wok, boil water and add 1 tbsp soy sauce and season with black pepper, add pancit habhab noodles. Cook until soft the bite
Add a seasoning sauce. Add in the sauted vegetables and toss with white onions rings and bok choy (Chinese cabbage)
Remove from wok: Serve hot
Best eaten with spiced coconut vinegar
Ingredients:
Enriched wheat flour, salt, water.
Also known as: Pancit Habhab gebakken noedels
Country of origin: Philippines
Brand: La Reina Elena
Code: 4809012970419
Content: 250 gr (8.82 Oz)