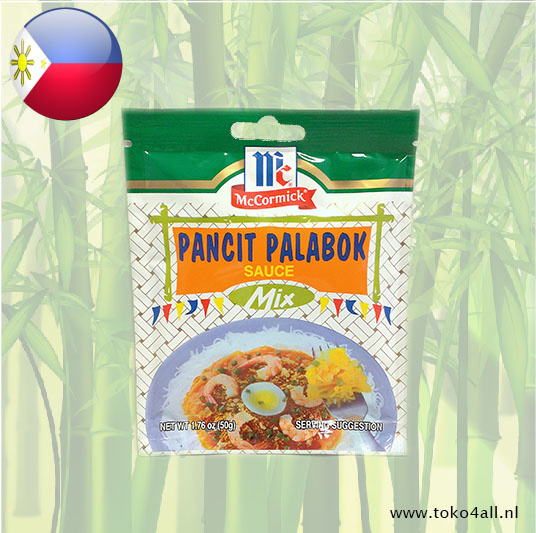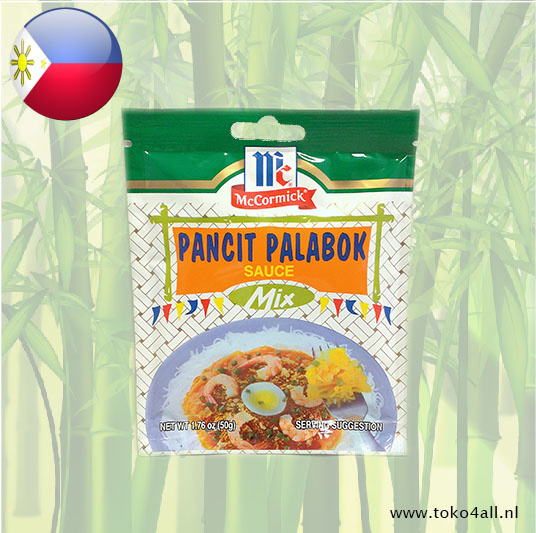 Pancit Palabok Sauce Mix 50 gr
€1,25 €1,80
Pancit Palabok Sauce Mix from McCormick is a sauce mix to make your own Pancit Palabok. Easy to prepare.
In stock (3)
(Delivery timeframe:1-3 days)
Pancit Palabok Sauce Mix
This mix is a ready-made mix from the very wide range of McCormick. This mix is a basic sauce for the traditional Palabok dish. Pancit Palabok is a noodle dish with a shrimp sauce and topped with, among other things, boiled shrimp, boiled pork, finely ground Chicharon, fried tofu, spring onions and fried garlic.
How to prepare?
Necessities:
Ingredients
1 bag of McCormick palabok mix
475ml water
227 gr Palabok Noodles or Rice Noodles (Bihon)
45 ml Oil (3 tablespoons)
30 gr Pressed garlic
100 gr coarse piece of plucked fish (e.g. smoked mackerel)
2 liters of water
30ml Oil
45 gr Fried garlic
125 gr Cooked chicken plucked
15 gr Spring onion sliced
15 gr Chicharon or Shrimp crackers Coarsely crumbled
30 gl Lime or Calamansi slices
2 pcs Hard boiled eggs
Optional Fish Sauce (patis)
Preparation method:
Dissolve the McCormick Palabok mix in 475 ml of water
Fry the crushed garlic and add it to the sauce with half of the plucked fish
Bring it to a boil and keep stirring
Lower the heat and let the sauce simmer until it thickens
Remove it from the heat and set it aside for a while
Bring 2 liters of water and 2 tablespoons of oil to the boil and add the noodles
Boil the noodles briefly until cooked
Drain and rinse the noodles with water
Mix the noodles with 1 tablespoon of oil to prevent the noodles from sticking
Place the noodles on a platter with a banana leaf, if desired.
Pour the sauce over the noodles and garnish with boiled egg slices, roasted garlic, plucked chicken, chopped spring onions, plucked fish, crushed chicharon or prawn crackers, lime or calamansi slices.
Serve with fish sauce (patis) if desired.
Ingredients:
Corn starch, iodized salt, garlic, hydrolyzed corn, soy and wheat protein, sugar, onion, yeast, natural flavor extract (corn maltodextrin and natural butter flavor (milk)), smoked fish powder, iodized salt, wheat flour, artificial fish flavor, artificial smoke flavor E551, E631, E627, soybean oil, anti-caking agent E551, herbs, thickener E415, coloring E102, E129, antioxidants E321, E320.
Also known as: Palabok Oriental Gravy Mix
Country of origin: Philippines
Brand: Mama Sita's
Code: 052100079165
Content: 50 gr (1.76 oz)