This is a frozen product and can only be picked up or shipped within the NETHERLANDS via DHL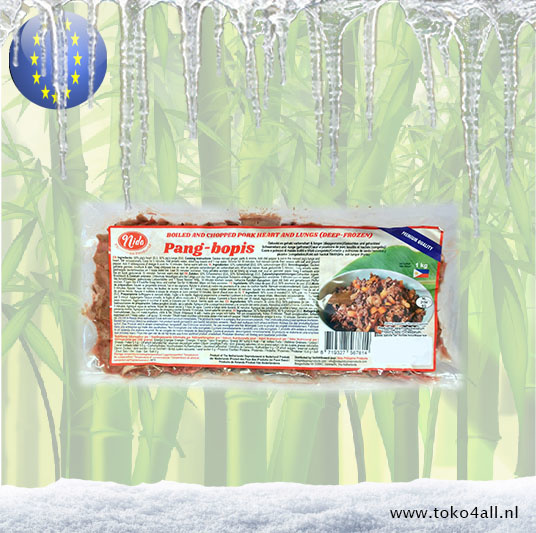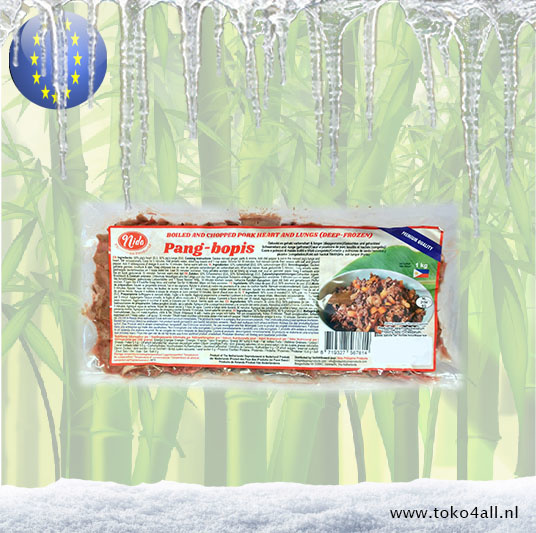 Pang Bopis 1 kilo
€8,95
Pang Bopis is a prepared Filipino dish made from pork heart and lungs in combination with some chili peppers. A real Filipino delicacy!
CHOOSE DHL AS SHIPPING METHOD!
In stock (4)
(Delivery timeframe:1-3 days)
Pang Bopis
Bopis (bópiz in Spanish) is a spicy Filipino dish of pork or beef lungs and heart baked in tomatoes, peppers and onions. This spicy Filipino dish has a Spanish origin, but the real meaning in the original language, and even the region of origin, is no longer really traceable. This variant has already gone through all the basic preparations and can be used cooked and chopped ready to make this Filipino delicacy yourself.
Necessities: (to your own taste)
1 pack of Pang-Bopis
Chopped ginger
Garlic
Onions
Chili Peppers
Annatto
Bay leaves
1 cup of water
Carrots

4 tablespoons vinegar
Preparation method:
Saute the ginger with the garlic and onions.
Add the chili pepper together with the thawed bopis
Stir occasionally
Boil it for 5 minutes
Add annatto with water and bay leaves and let it simmer for about 30 minutes
Add the sliced or chopped carrots and season with salt and pepper
Add 4 tablespoons of vinegar and let it cook for about 10 minutes.
Serve with rice
Ingredients:
50% Pork heart, 50% Pork lungs.
Also know as: Pang Bopis
Country of origin: Europa
Brand: Nida
Code: 8719327567814
Content: 1 kilo
This is a frozen product and can only be picked up or shipped within the NETHERLANDS via DHL