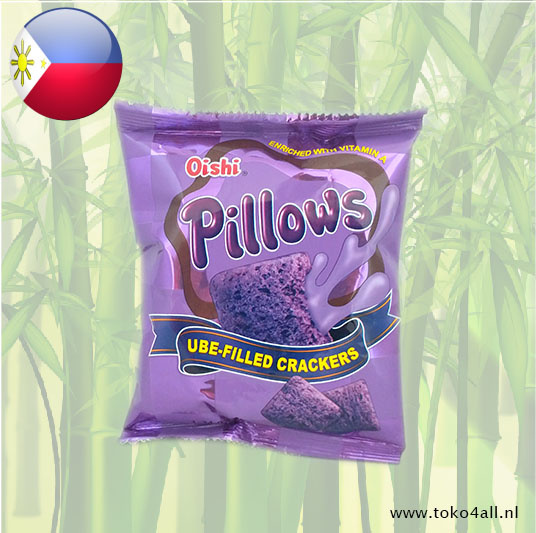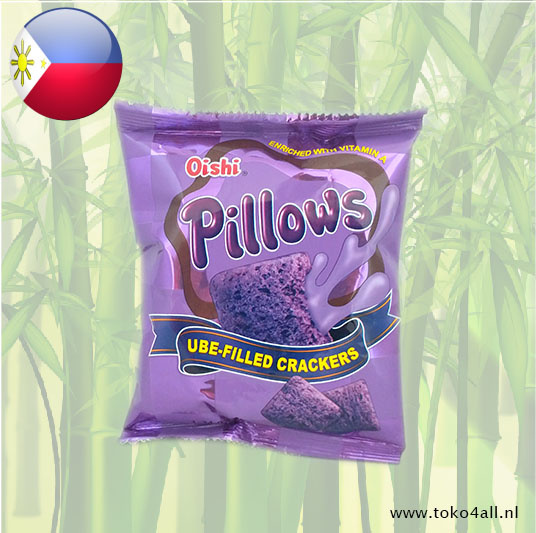 Pillows Ube filled crackers 38 gr
€1,10
Pillows Ube filled crackers, a delicious snack with a creamy ube filling. Packed small so easy to carry.
In stock (4)
(Delivery timeframe:1-3 days)
Pillows Ube filled crackers
This snack is a very special snack from Oishi. The crunchy pads have a creamy filling with an ube flavor. A tasty and special snack from the Philippines.
Ube root
The root is a tuber-like crop also known as yam. The Ube root comes from Africa and Asia. The tubers vary in size. The Purple jam is used in various desserts, there are also different types of ice cream with purple jam and in combination with coconut. In the Philippines, it is also available as halayá. This is a type of jam. One of the dishes that ube is used in is the very popular halo-halo dessert from the Philippines. This is a shaved ice dessert with fresh fruit, purple jam, cream, condensed milk and coconut.
Ingredients:
Crackers:
Wheat flour, coffee creamer (glucose syrup, hydrogenated palm kernel oil, sodium caseinate (milk), stabilizer E340, emulsifier E471, anticaking agent E551), iodized salt, colorants E133, E129, E127.
Filling:
Palm oil, sugar, milk powder (milk), lactose (milk), maltodextrin, flavor, emulsifier E322 (soy), iodized salt, glycerin, vitamin A palmitate, colorants E129, E127.
Also known as: Pillows Ube filled crackers
Country of origin: Philippines
Brand: Oishi
Code: 4800194152327
Content: 38 gr (1.34 Oz)