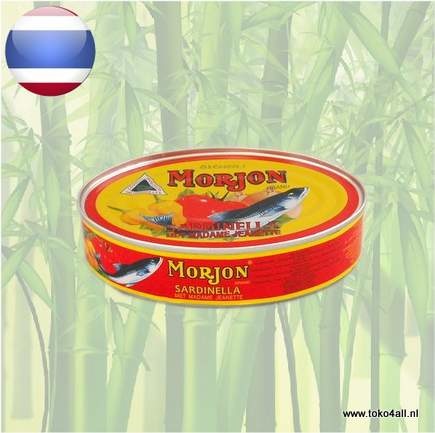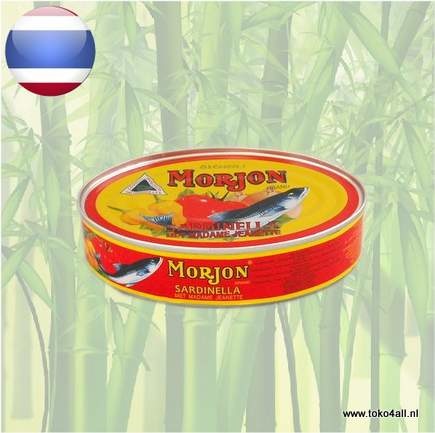 Sardines with Madame Jeanette 215 gr
€2,10
Sardinella with Madame Jeanette from Morjon are delicious sardines in a spicy tomato sauce with Madame Jeanette peppers.
Out of stock
(Delivery timeframe:Please contact us)
Sardines with Madame Jeanette
Morjon is a well-known brand with excellent quality canned sardines. These sardines are preserved in tomato sauce with the very spicy Madame Jeanette peppers.
Sardines
Sardines are a fish that is often consumed by large groups of people. They are often served in cans. Sardines or pilchards come in different types. The name sardines comes from the 15th century when this fish was regularly caught near Sardinia. The sardines are commercially fished and are for various purposes. For example, it is used as bait, but also for consumption. The fish is dried, salted or smoked. The oily liquid from the sardines is often used in the manufacture of paint, varnish and linoleum.
Madame Jeanette Peppers
The Madame Jeanette peppers are somewhat round peppers that do not look very spicy at first glance. It is an aromatic West Indian pepper variety. Probably the hottest pepper in existence.
Ingredients:
Sardines 60%, tomato paste, Madame Jeanette pepper, onion, water, salt.
Also known as: Sardines met Madame Jeanette, sardinella
Country of origin: Thailand
Brand: Morjon
Code: 8715017990849
Content: 215 gr
Drain Weight: 129 gr