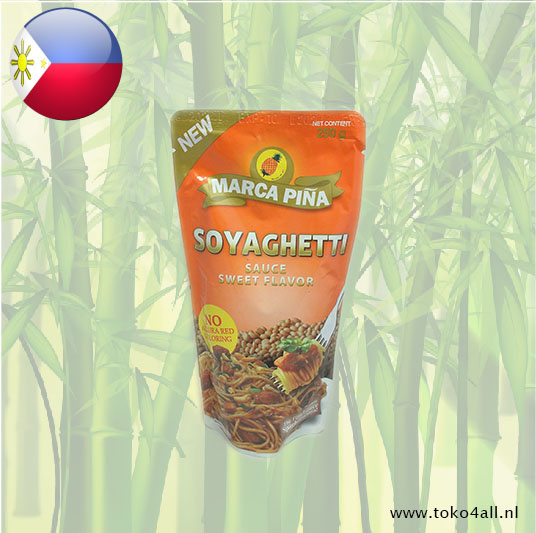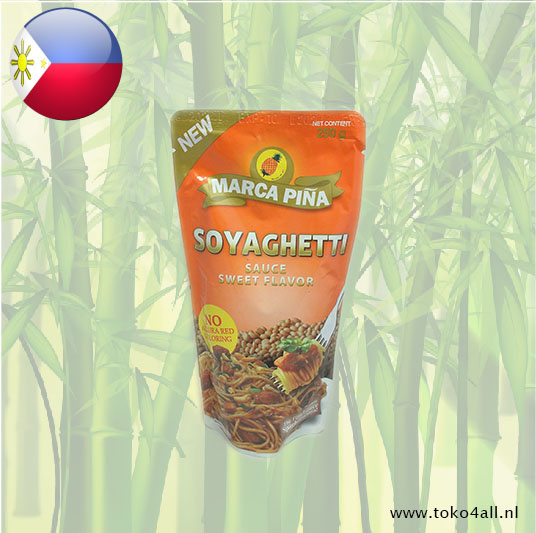 Soyaghetti sauce Sweet Flavor 250 gr
€2,75
Soyaghetti sauce Sweet Flavor is a Filipino spaghetti sauce based on soy. Delicious as a variation on the usual red sauce.
Out of stock
(Delivery timeframe:Please contact us)
Soyaghetti sauce Sweet Flavor
Marca Piña Soyaghetti is the first and only Filipino pasta sauce made from soy. Its full savory flavor and golden brown sauce has been embraced by young and old alike as a perfect replacement for those wishing to avoid the allura red color found in most Filipino-style spaghetti. It is best appreciated when served with fried chicken pieces or ground beef and topped with roasted peanuts.
necessities:
250 gr spaghetti pasta
250 gr or 1 pack soyaghetti
100 gr chicken meat, diced
2 tablespoons peeled fried peanuts
1 tablespoon spring onions (murang sibuyas), sliced
2 tablespoon sesame oil or any cooking oil 1/4 tsp. salt
Cooking instructions:
Heat oil in a pan
Saute chicken until it turns to golden brown
Add in peanuts and cook for 2-3 minutes, stirring continuously
Pour in soyaghetti and add in sping onions. Heat for a minute
Toss in cooked pasta
Serve on plates
Refrigerate after opening to maintan product quality
Ingredients:
Water, sugar, hydrolyzed vegetable protein (soy), modified starch, garlic powder, lactic acid E270, distilled vinegar, caramel E150c, iodized salt, onion powder, monosodium glutamate E621, E631, sodium benzoate E211, flavor enhancer.
Also known as: Soyaghetti sauce Sweet Flavor
Country of origin: Philippines
Brand: Marca Pina
Code: 4800405133381
Content: 250 gr.