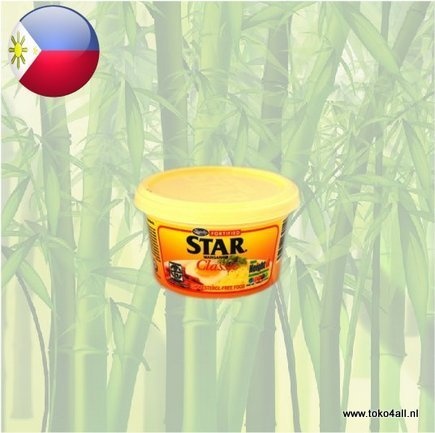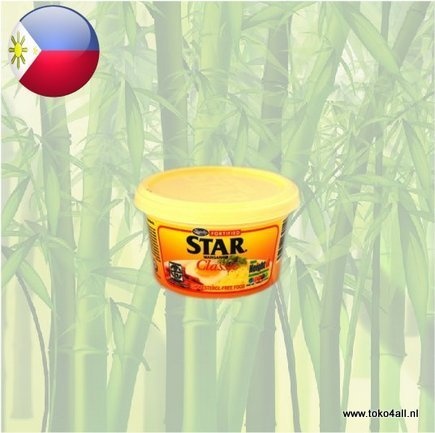 Star Margarine Classic 100 gr
€1,95
Star Margarine classic is a margarine in a tub that can be used for baking, but is also suitable for dough.
Out of stock
(Delivery timeframe:Please contact us)
Star Margarine Classic
This margarine is a product of Magnolia Inc from the Philippines. A non-refrigerated margarine made from a special blend of refined oil. It has no cholesterol and no trans fat. It is a good source of vitamins A, B1, B2, B6, B12, D3, E, folic acid, niacin. Also contains iodine which helps the development of children.
Recipe idea: Star Tuna Creme Pasta
1 jar of 100 gr star margarine
2 teaspoons of chopped garlic
150 gr chopped onion
150 gr mini corn
180 gr Tuna in oil
250 ml Whipped cream
1 tablespoon of Calamansi juice
600 gr of cooked macaroni
Salt pepper
Preparation method:
Fry the garlic and onion in the margarine
Add the corn and tuna and mix well
Add the whipped cream and the calamansi juice
Season with salt and pepper
Pour it over the cooked macaroni
Ingredients:
Refined coconut oil, hydrogenated palm oil, iodized salt, skimmed milk powder, artificial flavors, niacin, vitamin E, Emulsifier E322, vitamin BI, antioxidants E320, E321, beta-carotene, vitamins (a,b2,b6,b12,d3) potassium iodide, folic acid.
Also known as: Star Margarine Classic
Country of origin: Philippines
Brand: Magnolia, San Miquel Pure Foods
Code: 48036214
Content: 100 gr.