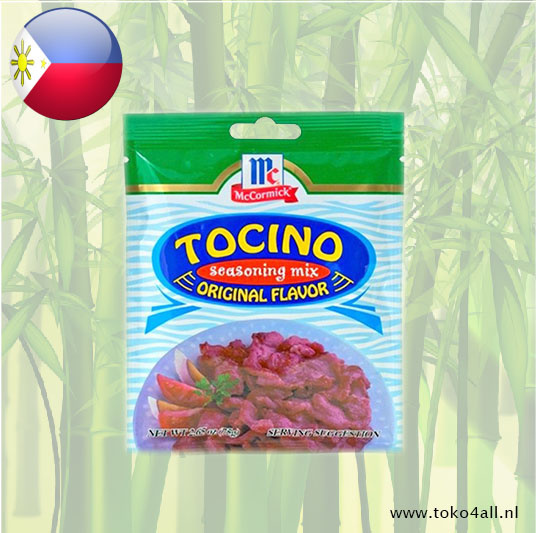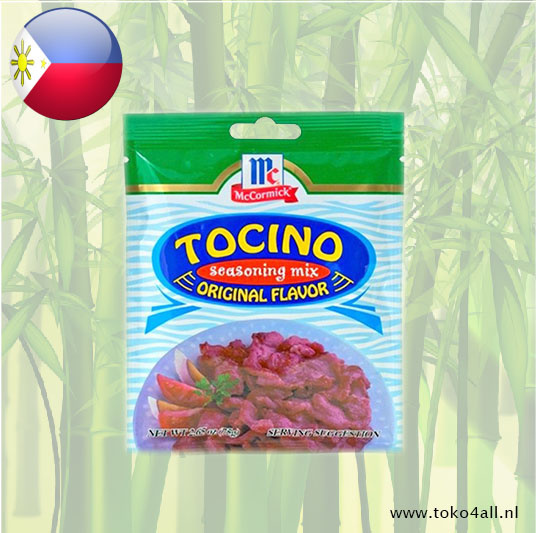 Tocino Original Seasoning Mix 75 gr
€1,00 €1,50
Tocino Original Seasoning Mix is an ix that allows you to enjoy a sweet and salty flavor combination that is clearly Filipino
In stock (16)
(Delivery timeframe:1-3 days)
Tocino Original Seasoning Mix
Tocino is a sweetened and cured pork dish that was traditionally served for breakfast but is now eaten as an evening meal. This mix is ​​a mix of natural herbs, annatto and sugar. It is free from any chemical preservatives and artificial colors. This indigenous delicacy is somewhat similar to smoked ham, only red in color and sweet. The name Tocino comes from the Spanish word tocino which is usually used with smoked meats. Tosilog is a well-known Filipino dish in which this meat is combined with fried rice, fried egg and papaya atjar.
Traditional Preparation
Pork is usually used for this, but chicken is also possible. First, the pork is cut into thin strips. The meat is then mixed with aniseed wine, annatto, water, sugar and salt in a sealed container. Usually it is left to marinate for 3 days refrigerated. Often pineapple juice is also added to make the meat slightly softer and fresher in structure. The meat is then fried until the oil comes out.
Preparation method:
Necessities:
Method:
Dissolve the McCormick Meat Marinade Mix in water
Add meat (and fat) and mix well
Let stand for at least an hour.
Bake / grill until cooked
Ingredients:
Sugar, iodized salt, flavor enhancer E621, anti-caking agent E470, garlic, acid regulator, herbs, tripolyphosphates E451 (to retain moisture), soybean oil, preservative E250, paprika extracts.
Also known as: Tocino Originele kruiden mix
Country of origin: Philippines
Brand: McCormick
Code: 052100079141
Content: 75 gr (2.65 Oz)