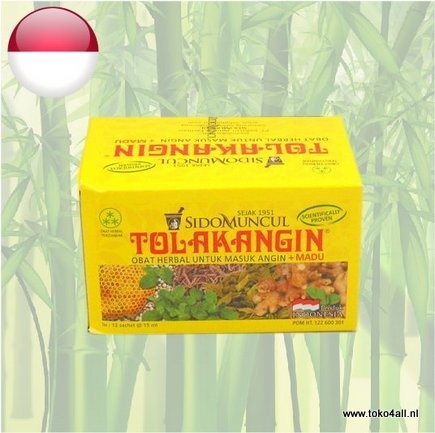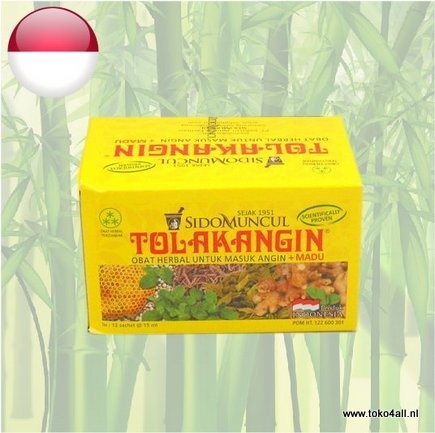 Tolak Angin Honey 12 x 15 ml
€5,75
Tolak Angin honey is a familiar blend of therapeutic herbal ingredients that help boost
Out of stock
(Delivery timeframe:Please contact us)
Tolak Angin Honey
Tolak Angin is since 1951 used by several generations in Indonesia to boost the immune system and digestion. The unique formula contains therapeutic herbal ingredients such as ginger, mint, clove, fennel, cardamom, and nutmeg. Many of these ingredients are from Indonesia. Tolak Angin with honey can be eaten at any time.
How to use:
Take a sachet of Tolak Angin-honey directly from a sachet or with half a glass of warm water.
Use 1 sachet 3 times a day after a meal
Warning
Do not drink in combination with alcohol, caffeine and medicines that can cause blood clots
Not for pregnant women and children
Ingredients:
Ammonites Extract (cardamom), Foeniculli Extract (fennel), Isorae Extract (hout ules), Myristicae Semen (nutmeg), Burmanni Cortex (cinnamon), Centellae herbs (Centella asiatica), Caryophylli folium (clove), Parkiae Cement (kedawung), Oryza sativa (rice), Menthae arvensitis herbs (mint), Usneae thallus (oak moss), Zingiberis rhizoma (ginger), Panax Extract extracted, 70% Mel Depuratum (honey).
Also known as: Tolak Angin Obat Herbal Untuk masuk Angin + Madu
Country of origin: Indonesia
Brand: Sidomuncul
Code: 8998898101447
Content: 12 x 15 ml.