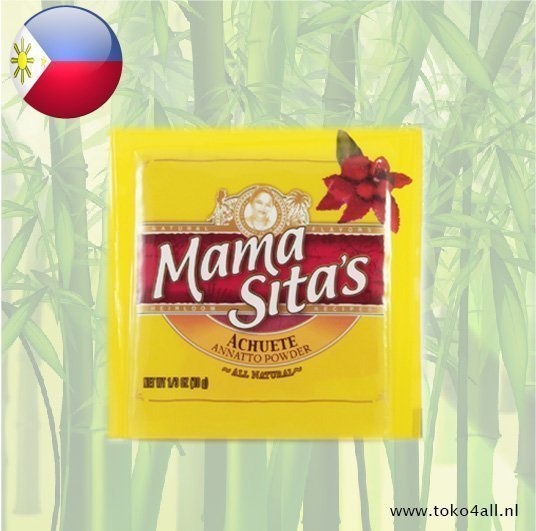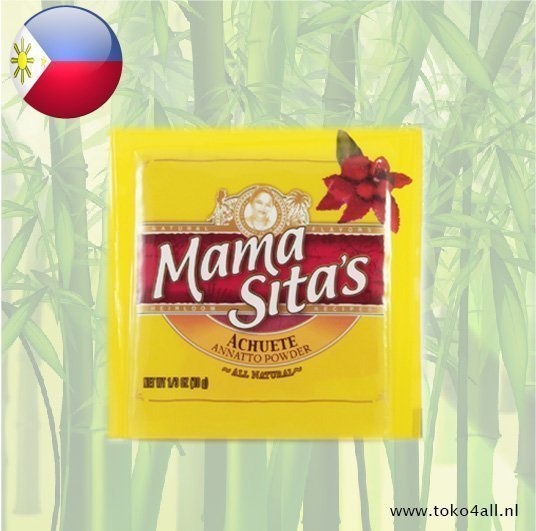 Annatto Food Colour E160b
€0,75
Annatto Food Color E160b is a natural powder like a color agent. Gives your meat and your dishes a nice yellow-orange to red color.
In stock (42)
(Delivery timeframe:1-3 days)
Annatto Food Colour
This powder is obtained from the annatto seeds also called achuete seeds and combined with maize starch. The powder has a slightly sweet taste and gives an attractive yellow-orange to red-orange color to your own dishes. Can be used very well to give the meat a nice color when marinating. This ingredient is widely used in Filipino cuisine when coloring Tocino and longanisa. Mama Sita's Annatto Natural Color E160b is an ideal replacement for the coloring effect of saffron.
Annato Seeds
Annato seeds also called Atsuente in the Philippines are used as a natural coloring agent for dishes. The dark red/brown seeds are soaked in warm water or fried in oil. Then the annatto seeds are pressed to get the pigment out. This way you get Annato water or the Annato oil variant. With this dye, you can have dishes colored from orange to red. The seeds do not give off taste and are thrown away when the color is squeezed out. The annatto can be ordered with us in sachets with seeds, but also in the annatto powder version of Mama Sita's. The Annato dye is indicated in dishes with the code E160b.
Ingredients:
Annatto seed 73%, corn starch.
Also known as: Annatto Food Colour
Country of origin: Philippines
Brand: Mama Sita's
Code: 4804888804189
Content: 10 gr (1/3 Oz)