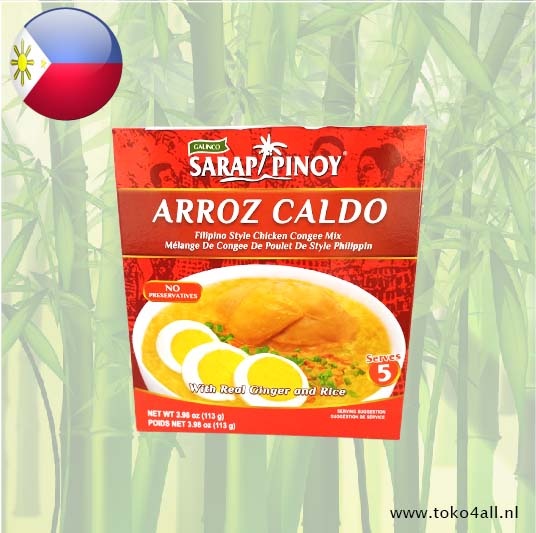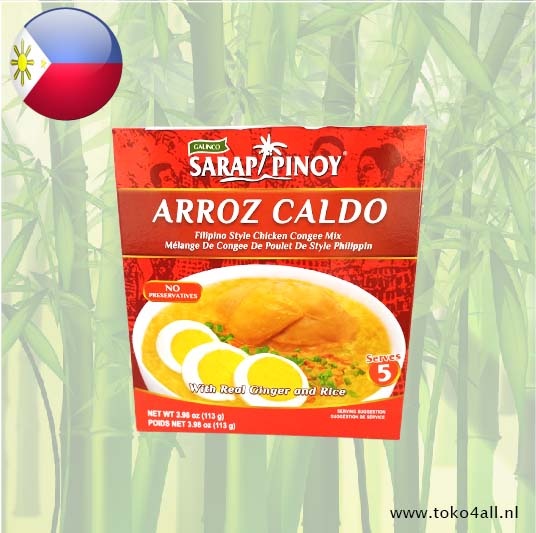 Arroz Caldo 113 gr
€1,95
Arroz Caldo from Sarap Pinoy is a mix for rice porridge with chicken flavor and ginger pieces. Delicious as a main dish but also nice for just when you feel like too.
In stock (5)
(Delivery timeframe:1-3 days)
Arroz Caldo
Arroz Cald-O is a popular dish, also known as Lugaw and Goto. In the Philippines, this dish is often given to recuperate when someone is sick, but it is also just eaten as a meal. By Region composition, Arroz Caldo may vary. Arroz Cald-O was originally a Chinese dish, but during the occupation of the Spaniards was named Arroz Caldon because the Chinese name was difficult to pronounce. Lugaw is often prepared with chicken, while Goto is often made of beef tripe and beef organs. You can just add a few items like chicken breast, roasted garlic, and shallots. 1 package is good for five bowls.
How to prepare:
Combine the mix with 5 cups of water (1250 ml) in a casserole
Stir until free from lumps
Bring to boil and stir occasionally for 10 minutes or until the rice is done
Serve with fish sauce and lemon
If desired, add a hard-boiled egg and pre-cooked chicken strips. Makes 5 servings
Ingredients:
Rice, cornstarch, modified starch, herbs, sugar, maltodextrin, hydrolyzed vegetable proteins, garlic powder, turmeric powder, white pepper, artificial color (E102), iodized salt, dehydrated garlic, ginger, chives, MSG (E621), spices.
Also known as: Rice porridge with chicken flavour and ginger pieces
Country of origin: Philippines
Brand: Sarap Pinoy
Code: 4800552169141
Content: 113 gr (0.25 lb)