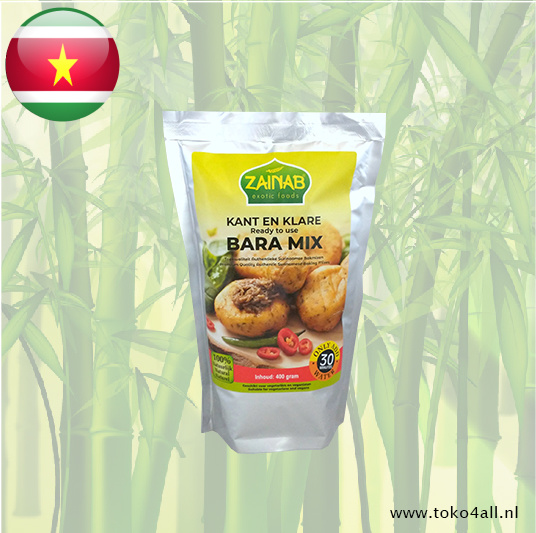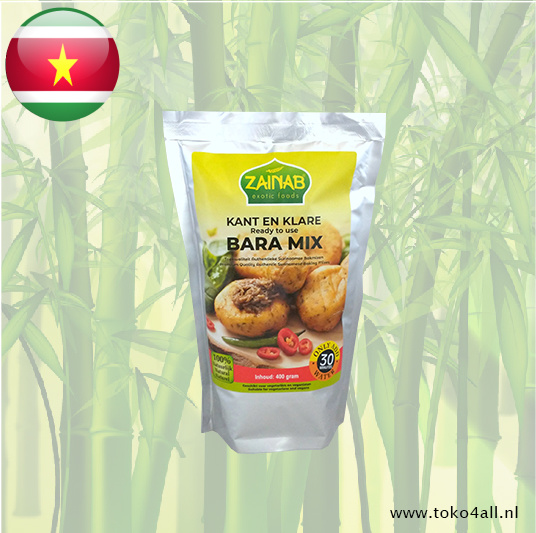 Bara Mix ready to use 400 gr
€3,50
Bara mix from Zainab, is a top quality Surinamese baking mix according to an authentic recipe.
In stock (6)
(Delivery timeframe:1-3 days)
Bara Mix
Bara Mix ready to use and easy to use. With this mix you can easily make baras yourself. This mix is ​​100% halal and also suitable for vegetarians.
Necessities
1 bag of 400 grams of Zainab ready-made Bara Mix
300 ml (300 grams) of lukewarm water
frying pan
1 liter of sunflower oil for frying.
Instructions
Pour Zainab bara mix from the bag into a bowl
Add 300 ml of lukewarm water, 2 tablespoons of oil at once to the mix
Stir with a tablespoon of mix, water, and oil, do not knead!
Coat Bara dough with a few drops of oil
Cover Bara dough with foil or with a damp cloth and leave to rise in a warm place for about 30 minutes (for airy bara, leave dough to rise for at least 1 hour)
Make small balls from the dough and leave for 5 minutes
Heat frying pan with sunflower oil to about 160 degrees
Press the beads flat on an oil-contaminated sheet, make a hole in the middle
Deep-fry Bara in hot oil until brown
Ingredients:
Wheat flour, Yellow pea flour (6%), Salt, Dried yeast, Curry masala (Turmeric, Cumin, Coriander, Nigella, Fenugreek, Pepper, Mustard, Bay leaf), Turmeric, Chili pepper, Garlic, Whole cumin, Raising agents (E450, E500, E170), Sugar.
Also known as: Bara Mix - Ready to use
Country of origin: Surinam
Brand: Zainab
Code: 8714684000295
Content: 400 gr.