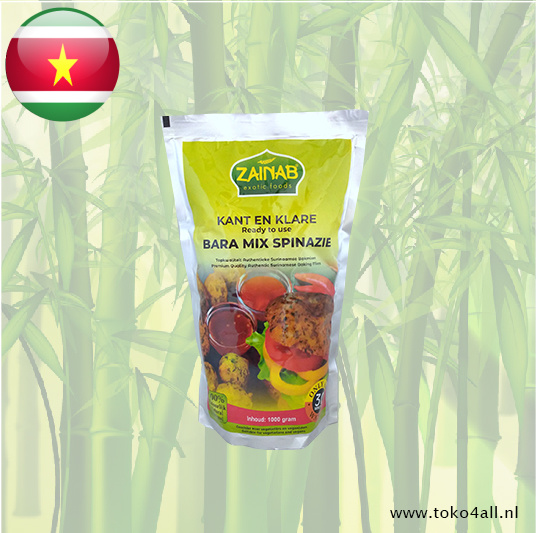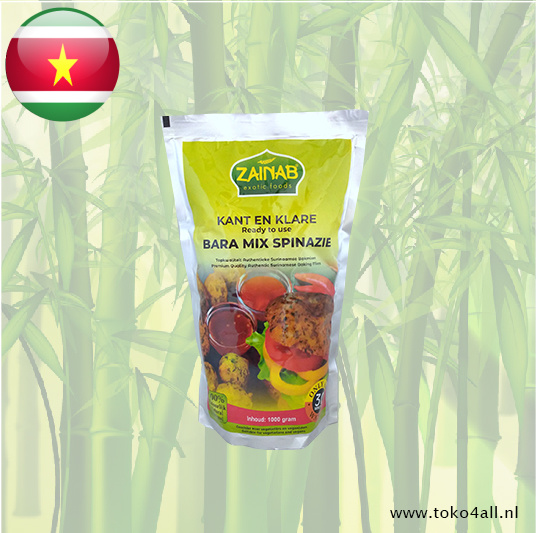 Bara Mix spinach Reasy to use 1 kg
€6,25
Bara mix from Zainab, is a top quality Surinamese baking mix according to an authentic recipe.
In stock (1)
(Delivery timeframe:1-3 days)
Bara Mix
Bara Mix ready to use and easy to use. With this mix you can easily make baras yourself. This mix is 100% halal and also suitable for vegetarians.
Necessities
1 bag of 400 grams of Zainab ready-made Bara Mix
700 ml (700 grams) of lukewarm water
frying pan
1 liter of sunflower oil for frying.
Instructions
Pour Zainab bara mix from the bag into a bowl
Add 750 ml of lukewarm water, 2 tablespoons of oil at once to the mix
Stir with a tablespoon of mix, water, and oil, do not knead!
Coat Bara dough with a few drops of oil
Cover Bara dough with foil or with a damp cloth and leave to rise in a warm place for about 30 minutes (for airy bara, leave dough to rise for at least 1 hour)
Make small balls from the dough and leave for 5 minutes
Heat frying pan with sunflower oil to about 170 degrees
Press the beads flat on an oil-contaminated sheet, make a hole in the middle
Deep-fry Bara in hot oil until brown
Ingredients:
Wheat flour, Yellow pea flour, Salt, Whole cumin, Yeast, Curry masala (Cumin, Turmeric, Fenugreek, Coriander, Nigella, Black pepper, Ground mustard seed), Turmeric, Spinach, Ground cumin, Baking powder (E450, E500), Garlic, Sugar, Chili.
Also know as: Bara Mix spinazie Kant en klaar
Country of origin: Surinam
Brand: Zainab
Code: 8714684004071
Content: 1 kg