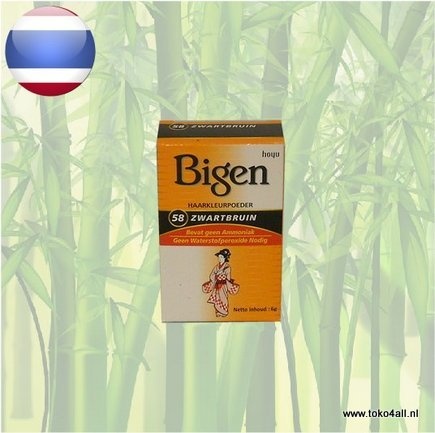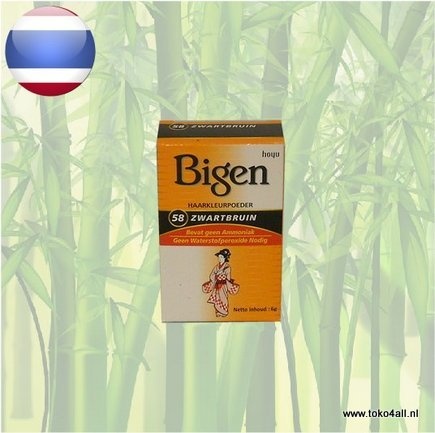 Bigen Hair Dye Black Brown 58 6gr
€4,55
Bigen Hair Dye Black Brown from hoyu is a hair color powder for completely or partially graying hair.
In stock (2)
(Delivery timeframe:1-3 days)
Bigen Hair Dye Black Brown 58
Bigen hair coloring for completely or partially graying hair. Bigen is a hair color powder with a long-lasting effect. It contains no ammonia and no hydrogen peroxide.
Ideal for coloring gray hair naturally thanks to the following properties:
Long-lasting effect - beautiful and natural color
No pungent odor - due to ammonia-free formula
Easy to use - just mix with water
Contains extracts of seaweed and oriental berries.
How to use:
Pour Bigen powder into a non-metallic bowl or cup. Add room temperature tap (do not use hot or boiling water) in the proportion shown on the right.
Mix well to make a homogeneous paste
Quickly apply the mixture to dry hair
If you have partially gray hair, start applying where the hair is most gray
Comb through the hair to ensure each strand is thoroughly covered with the mixture
Wait 20 to 30 minutes
To adjust your development time, check color development several times by wiping a strand of hair with a cotton ball or tissue
Once the desired color is obtained, proceed to rinse your hair
Rinse hair thoroughly with warm water until water runs clear and wash well with shampoo
Ingredients:
Sodium perborate, p-Phenylenediamine sulfate, cellulose gum, m-Aminophenol, sodium carbonate, disodium lauryl sulfosuccinate, algin, Sapindus Mukurossi fruit extract, magnesium stearate, p-Aminophenol, fragrance.
Also known as: Bigen Permanent powder hair colour Black Brown
Country of origin: Thailand
Brand: Bigen / Hoyu
Code: 4987205905582
Content: 6 gr.