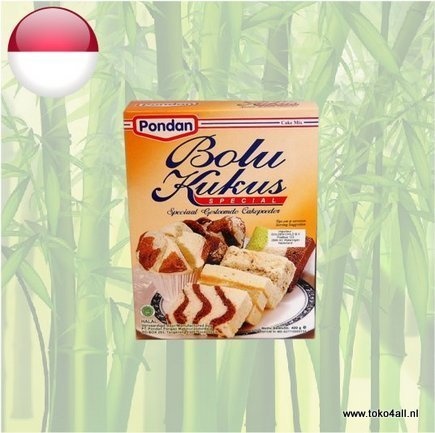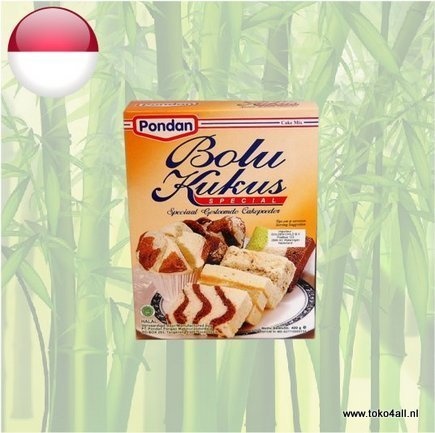 Boku Kukus Special 400 gr BB 31-05-2023
€2,25 €2,85
Bolu Kukus Special is one of the many recipes from the Pondan range.
In stock (2)
(Delivery timeframe:1-3 days)
Boku Kukus Special
Bolu Kukus Special Steamed Cake is a delicious snack.
How to prepare?
Beat the eggs at high speed for ± 4 minutes until frothy.
Add Pondan Special Steam Cake Mix, then store again at high speed for ± 7 minutes until the cake batter is smooth white and thick.
Take 1/3 of the cake batter, add diluted cocoa powder.
Add cooled melted margarine to the white cake batter and mix well.
Grease a 22 cm pan with margarine.
Put 4 scoop of white cake batter exactly on the center of the pan, followed by 2 scoop of chocolate cake batter on top of that of the white one. Repeat this step until all cake batter is used. Remember that the last layer of cake batter must be the white one.
Steam with maximum heat for ± 25 minutes. Do not open the lid while steaming.
The Boku Kukus is cooked when you insert a toothpick in the middle and it comes out clean.
Ready to serve, for other type of steam pie recipe can be found on this pack.
Ingredients:
Wheat flour, Corn starch, Sugar, Skimmed milk powder, Baking powder, Emulsifier (E471, E472b, E477), Vanilla flavor.
Also known as: Boku Kukus Special Steam Cake
Country of origin: Indonesia
Brand: Pondan
Code: 8992786100048
Content: 400 gr.