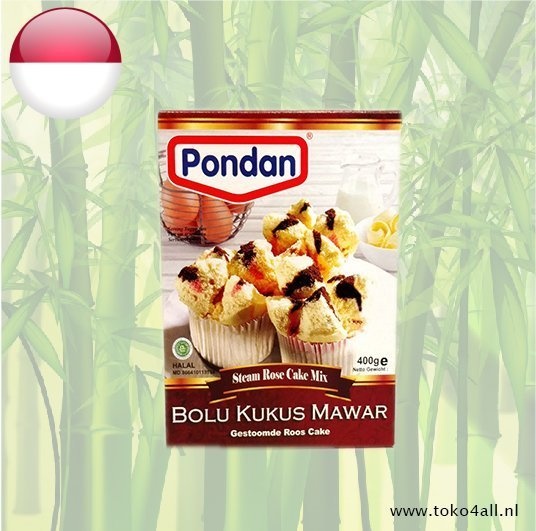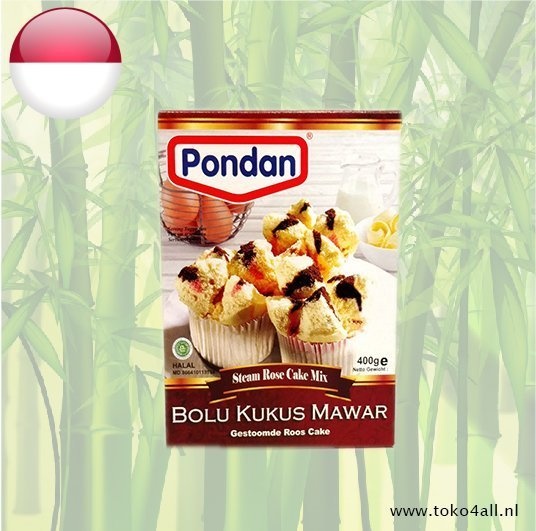 Bolu Kukus Mawar 400 gr
€2,80
Bolu Kukus Mawar from Pondan is a steamed cake that is delicious and can be prepared in different ways according to your ideas. Make it even better with, for example, cocoa
In stock (3)
(Delivery timeframe:1-3 days)
olu Kukus Mawar
Bolu Kukus is a steamed cake that looks a lot like kue mangkuk, but it does not contain any rice flour or tapioca. The steamed cake is often flavored with vanilla, chocolate or strawberry aromas.
Necessities:
1 pack of Bolu Kukus Mawar
2 eggs
 75 ml of water
100 ml of coconut milk
Preparation method:
Beat the eggs at the highest speed with a mixer until they become creamy
Feed the Pondan Roses steamed cake powder and 75 ml of water
Beat well for 7 minutes until the mixture is thick
Meanwhile, put the steam pan on and bring the water to a boil
Add the coconut milk and stir well
Take 5 tablespoons of the mixture, put it in a bowl and add 1 teaspoon of cocoa and mix well (this mixture serves as the upper part of the bolu kukus
Fill 3/4 of the cake with the white mixture and then add 1 teaspoon of chocolate mixture (enough for 20 Bolu Kukus)
Let them cook on high heat for about 15 minutes
Do not remove the lid from the pan while steaming.
Ingredients:
Flour, Corn starch, Powdered sugar, Skimmed milk powder, Emulsifier (E471, E472b, E477), Baking powder, Banana essence.
Also known as: Steam Rose Cake Mix, Gestoomde Roos Cake
Country of origin: Indonesia
Brand: Pondan
Code: 8992786100031
Content: 400 gr.