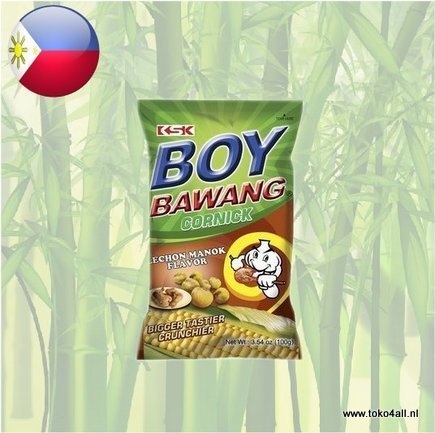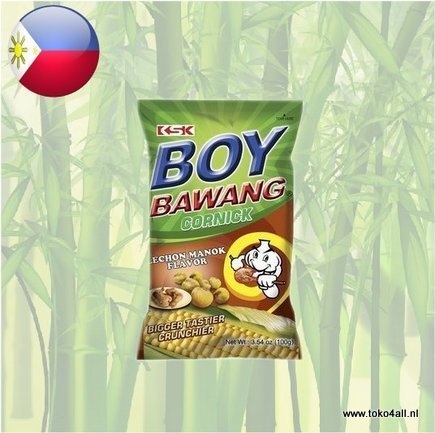 Boy Bawang Lechon Manok Cornick 100 gr
€1,25
Boy Bawang Lechon Manok is a delicious crunchy corn snack with a spiced Lechon Manok (roasted chicken) flavor. Also available in other flavors.
In stock (36)
(Delivery timeframe:1-3 days)
Boy Bawang Lechon Manok Cornick
Cornick is corn that is soaked in water after harvesting for approximately 3 days. This is done to return the corn grain to its original volume. After this the corn kernels are fried or roasted. The Filipino cornick pieces are also slightly smaller than the American version. They may be smaller, but they are more crispy. The garlic taste is the most common taste. This version has the Lechon Manok taste. Lechon Manok is the Filipino name for a roasted chicken. The name Bawang is the Filipino word for garlic. This only applies to the brand name as this brand also has flavors to which no garlic has been added.
Ingredients:
Corn 86%, vegetable oil (coconut oil, palm olein), sugar, chicken flavor, flavor enhancer E621, iodized salt, spices and smoke flavor herbs.
Also known as: Boy Bawang Cornick Lechon Manok Flavor
Country of origin: Philippines
Brand: KSK Food Products
Code: 4800631681311
Content: 100 gr (3.54 Oz)