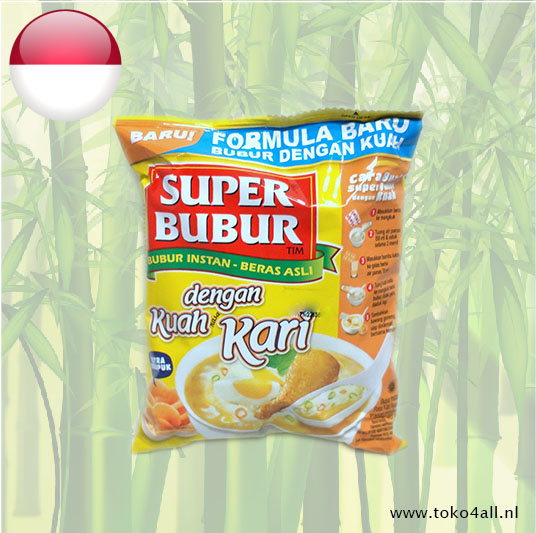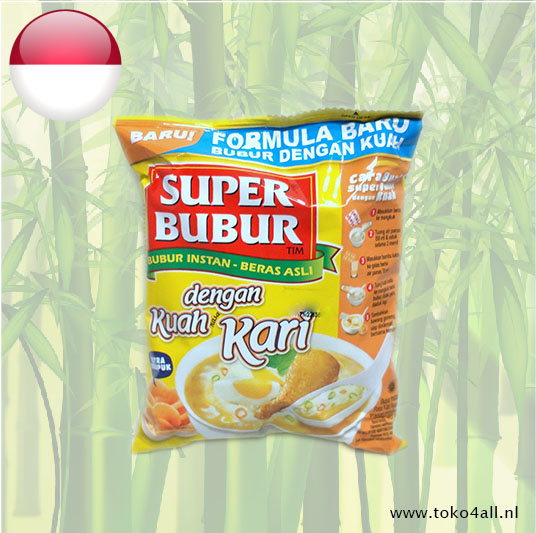 Bubur Instan dengan kuah kari 46 gr
€1,35
Bubur Instan dengan kuah kari is an instant rice pudding with chicken. Easy to prepare and a separate version of your breakfast
Out of stock
(Delivery timeframe:Please contact us)
Bubur Instan dengan kuah kari
Bubur Instan Lezat is a kind of savory variant of the rice porridge known to us. This rice porridge is often eaten as a cooked breakfast. You can control the taste a bit yourself, for example by adding soy sauce, shallots, and some crackers.
Preparation method:
Put instant porridge in a bowl
Add as many spices as you want
Pour 200 cc of hot water, stir well, wait about 2 minutes for porridge to thicken
Add as much soy sauce and chili sauce as you like. Also, add fried shallot and crackers
Ingredients:
Rice, crackers (flavor enhancer E621, coloring E110, tapioca fried onions), flavor enhancers E621, E635, salt, sugar, spices, dried vegetables (leek and carrots), textured vegetable proteins, maltodextrin, hydrolyzed vegetable oil, garlic powder, pepper powder, silicon dioxide, artificial chicken flavor, acidity regulator, caramel colors, TBHQ antioxidants.
Also known as: Bubur Instan beras asli dengan kuah kari
Country of origin: Indonesia
Brand: Mayora
Code: 8996001524039
Content: 46 gr