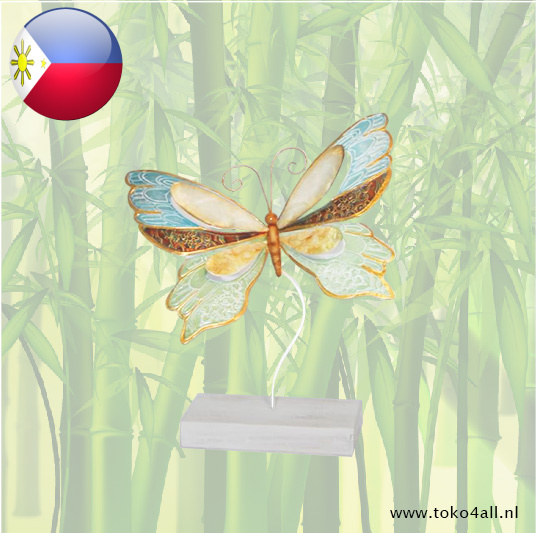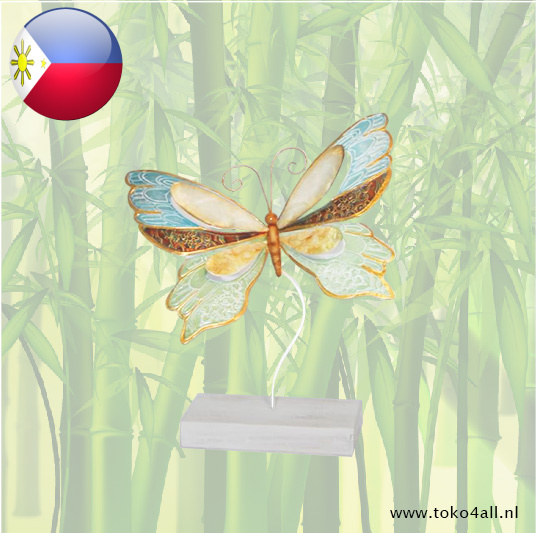 Butterfly made of metal with mother-of-pearl 27x24cm
€37,95
This butterfly made of metal and mother-of-pearl is a beautifully designed showpiece. Mounted as a stand on a wooden base.
In stock (2)
(Delivery timeframe:1-3 days)
Butterfly made of metal with mother-of-pearl
One of the many animals we have in our assortment is the butterfly. Loved by many for its innocent appearance and the elegance of its wings. Butterflies come in many shapes, sizes, and colors, and that is also the case in our assortment. This butterfly has a wingspan of approximately 27 cm by 24  cm. The butterfly is attached with a metal decorative bracket on a small plank. This way you can place it anywhere you want.
Mother-of-pearl
Mother-of-pearl, also called nacre or Capiz in Filipino, is an oyster-like shell called Placuns Placenta. These shells are commonly known as pearl oysters. The Capiz shell has a light-transmitting character and is often used for windows and lamps in the Philippines. These shells do not belong to protected marine animals, and fishing for them is legal. In addition to their use in windows and lamps, these shells are also widely used in art objects. By keeping the shells moist after catching them, they can be shaped slightly before pouring a resin over them. The shells are composed of various layers lying on top of each other. The thickness of the layers can vary by mollusk group. Real mother-of-pearl can be used as glass for windows, but it is much more fragile. However, it is also much cheaper than glass.