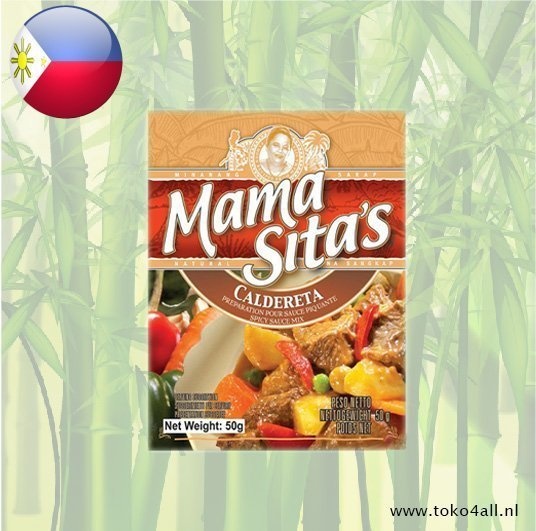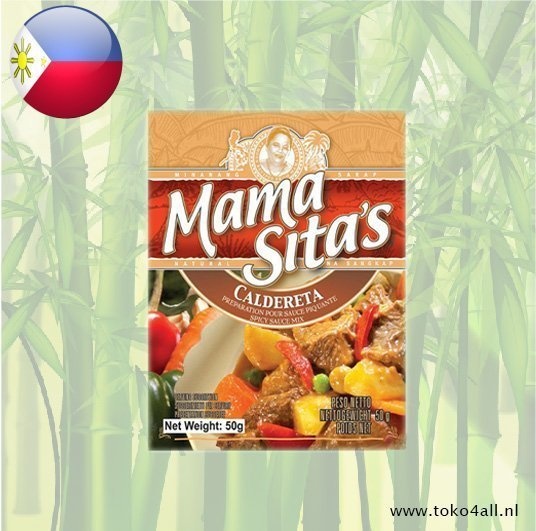 Caldereta Mix 50 gr
€1,95
Caldereta mix of Mama Sita's is a mix for a Filipino stew. Delicious in combination with rice. With these packages from Mama Sita's you get the Filipino kitchen at home
In stock (71)
(Delivery timeframe:1-3 days)
Caldereta Mix
This mix is a delicious mix to make your own caldereta now. Caldereta also called Kaldereta is a stew consisting of beef or lamb in combination with vegetables. Depending on the region, the vegetables may differ, but the most common are tomatoes, potatoes, peppers, and hot peppers. The name caldereta is derived from the Spanish word Caldera which means boiler. The caldereta is served on special occasions such as parties and parties. Pork or chicken is also used as a variation.
Necessities:
1 bag Caldereta mix
1 Kg Beef poulet
190 gr Potato cubes
190 gr Winter carrot
1 red pepper
100 gr green peas
28 gr olives (optional)
500 ml of water
45 ml of oil
Preparation method:
Put the oil in a casserole and fry the beef
Add water and bring it to the boil. Stew the meat until soft (add water if necessary)
Add the mix and stir well
Add the potato and the carrot and simmer until al dente
Finally, add the rest of the vegetables until it is all done
Serve with rice
Ingredients:
Cane sugar, Salt, Rice flour, Paprika, Garlic powder, Spices (chili powder, oregano powder, basil powder, and rosemary powder), Yeast extract, and Acidity regulator E330.
Also know as: Caldereta mix
Country of origin: Philippines
Brand: Mama Sita's
Code: 4804888804103
Content: 50 gr