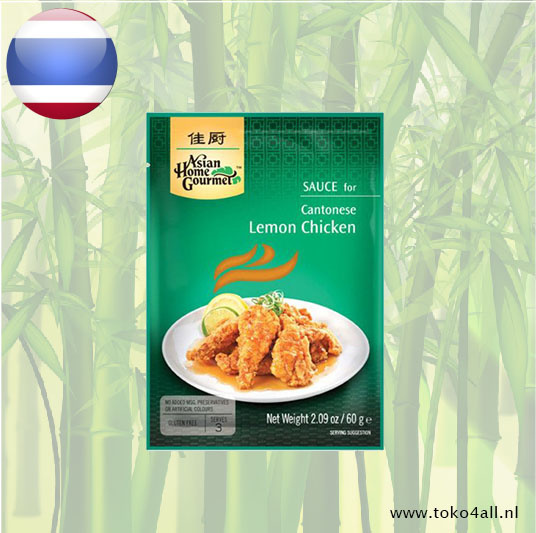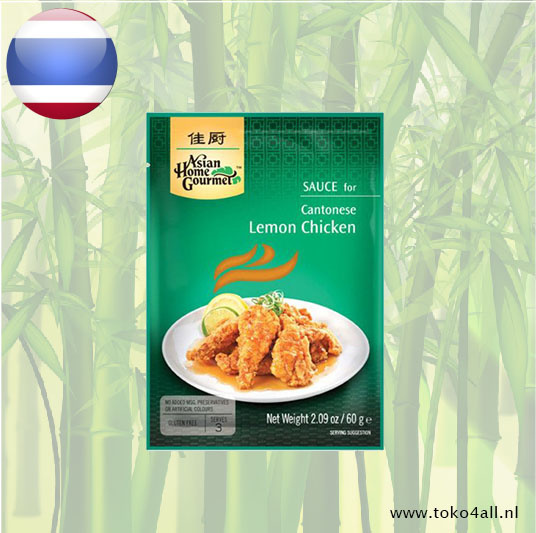 Cantonese Lemon Chicken 50 gr
€1,45
Cantonese Lemon Chicken is a ready-made pasta to make a tasty breaded fried chicken yourself.
In stock (15)
(Delivery timeframe:1-3 days)
Cantonese Lemon Chicken
Cantonese lemon chicken is breaded and fried chicken served with lemon sauce. Asian Home Gourmet Lemon Chicken sauce contains a special mix of lemons and sugar and gives the chicken a fresh lemon flavor with a slightly sweet bite. The sauce is also suitable as a dipping sauce for seafood and fish.
Necessities:
1 package of lemon sauce for lemon chicken (chicken in lemon sauce)
2 tbsp water
450 grams of chicken breast, cut into cubes
1 egg, beaten
1/2 cup (125 grams) corn flour
Oil for frying
Lemon slices or spring onions to garnish
Preparation method:
Roll the chicken meat in the beaten egg. Place the meat with the flour in a plastic bag and shake until the flour is evenly distributed over the meat
Fry or deep-fry the meat in the oil and set it aside
Mix the sauce with the water and pour over the meat. Garnish and serve hot
Ingredients:
Water, sugar, glucose syrup, lactose, brown sugar, preserved lemons (lemons, vinegar), thickener: modified tapioca starch, acid regulator: E296, salt.
Also known as: Cantonese Lemon Chicken
Country of origin: Thailand
Brand: Asian Home Gourmet
Code: 8886390203120
Content: 50 gr (1.75 Oz)