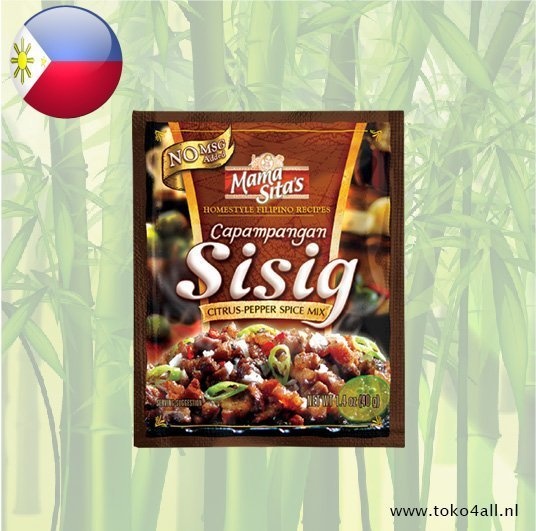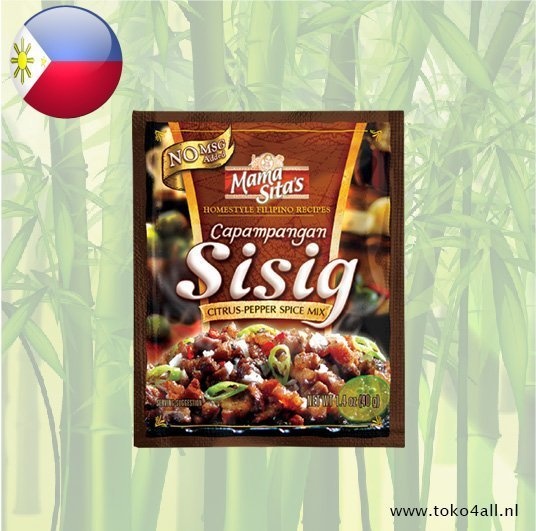 Capampangan Sisig Mix 40 gr
€1,50
Capampangan Sisig Mix is a traditional dish, now you can put it even easier on the table with the mix of Mama Sita's. Delightfully fresh and bite
In stock (42)
(Delivery timeframe:1-3 days)
Capampangan Sisig Mix
A sizzling delight that zooms straight to the middle of the dinner table: chopped meat traditionally flavored with black pepper, soy sauce, citrus and chopped onions. In Pampanga, the meat is boiled until very tender before being grlled or fried.
Ingredients:
1 pack Sisis Mix
1 kilo of pork
2 chopped onions
625 ml of water
Calamansi fruit or lime (optional)
Chili peppers (optional)
Cooking Directions:
Slice 1 kilo of pork in small cubes and fry or grill them
Chop the onion and fry it
Dissolve 1 pack of sisig mix in 625 ml water
Mix the meat and the onions with the sauce
Serve with calamansi fruit or lime and chili peppers
Ingredients:
Lemon powder 37.5%, onion powder, salt, black pepper 6.2%, acidity regulator E330, yeast extract, chili powder, color E150a.
Also known as: Mama Sita's Capampangan Sisig Mix (Citrus-Pepper Spice Mix)
Country of origin: Philippines
Brand: Mama Sita's
Code: 4806512022105
Content: 40 gr (1.4 Oz)