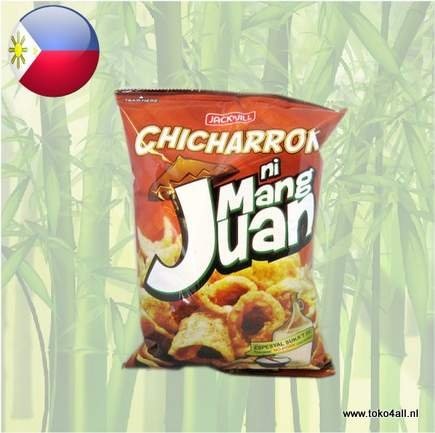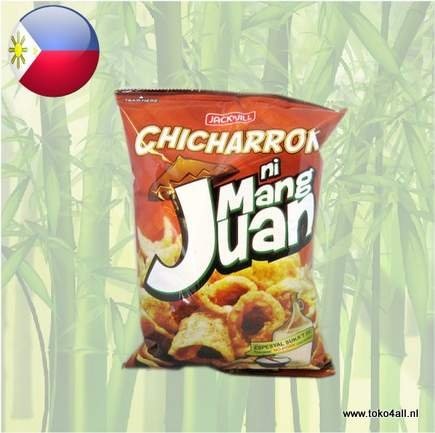 Chicharron Suka at Sili Ni Mang Juan 90 gr
€2,75
Chicharron Suka at Sili is a vegetarian variant of nibble bacon. Tasty and definitely something else. Quickly try the many flavors of Mang Juan.
In stock (42)
(Delivery timeframe:1-3 days)
Chicharron Suka at Sili
This chicharron is a vegetarian variant of the well-known nibble bacon with the main component being a flour of dried green beans. Suka't Sili aroma has the taste of spicy vinegar. Chicharron from Ni Mang Juan comes in different flavors and they all have their own unique composition. Great with drinks or for the tube. Try them all and experience what Ni Mang Juan has to offer as flavors.
Ingredients:
Dried green pea flour, vegetable oil (palm olein, palm or coconut oil), tapioca starch, potato starch, seasonings (natural and artificial flavors, sugar, whey powder, hydrolyzed vegetable protein (from soy), wheat flour, anticaking agent E551, lactose (from milk), vegetable oil, maltodextrin, flavor enhancers E627 and E631, preservative E262, cracker powder (wheat, salt, yeast), thickener, arabic gum, anticaking agent E341, lard (derived from animal fats), acidity regulators E300, E330, dextrose powder, color E102, modified starch, iodized salt, spices, flavor enhancer E621, calcium carbonate, antioxidants E320, E321, E310.
Also know as: Chicharon Espesyal Suka at Sili Ni Mang Juan
Country of origin: Philippines
Brand: Jack 'n Jill
Code: 4800016110528
Content: 90 gr