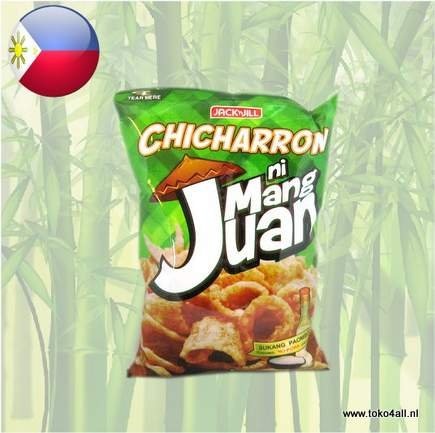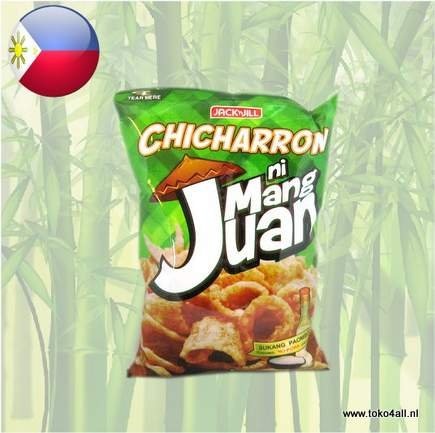 Chicharron Sukang Paombong Ni Mang Juan 90 gr
€2,75
Chicharron Sukang Paombong is a vegetarian variant of nibble bacon. Tasty and definitely something else. Quickly try the many flavors of Mang Juan.
In stock (36)
(Delivery timeframe:1-3 days)
Chicharron Sukang Paombong
This chicharron is a vegetarian variant of the well-known nibble bacon with the main component being a flour of dried green beans. Sukang Paombong aroma has the taste of slightly sweetened vinegar. Chicharron from Ni Mang Juan comes in different flavors and they all have their own unique composition. Great with drinks or for the tube. Try them all and experience what Ni Mang Juan has to offer as flavors.
Ingrediënten:
Gedroogde groene erwten 43%, palmolie, kokosolie, tapioca zetmeel, gedroogde aardappelen, kruiden poeder 3% (aroma's, voedingszuur, natrium diacete, kokos poeder, gehydrolyseerde soja-eiwit, smaakversterkers E627, E631, antiklontermiddel, siliciumdioxide , tarwe (bevat gluten), zout, gist, zoetstof aspartaam (bevat een bron van fenylalanine, maïsolie), gejodeerd zout (zout, Jodium), maltodextrine, specerijen, smaakversterkers E621 , antiklontermiddel: calciumcarbonaat, antioxidanten E310, E320, E321
Also know as: Chicharon Sukang Paombong Ni Mang Juan
Country of origin: Philippines
Brand: Jack 'n Jill
Code: 4800016110511
Content: 90 gr.