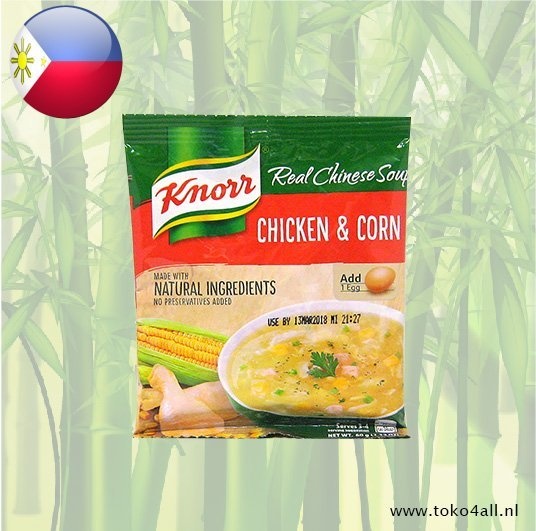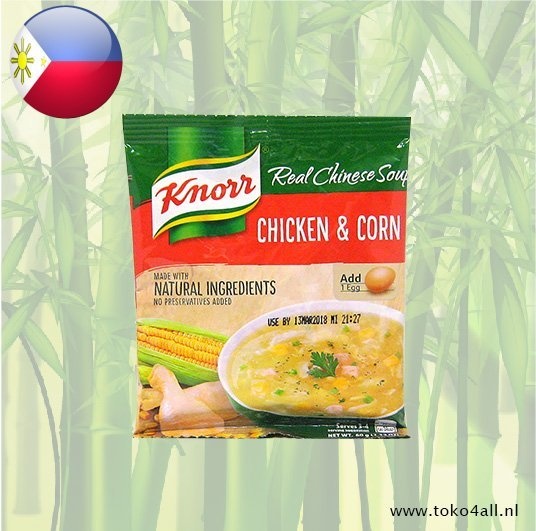 Chicken Corn Soup 60 gr
€2,20
Knorr chicken corn soup is a delicious soup that is perfect as a starter or as a soup for in between. Try it quickly.
Out of stock
(Delivery timeframe:Please contact us)
Chicken Corn Soup
The knorr brand needs no further explanation. One of the best known brands and sold all over the world. This soup is a delicious cream soup with the combination of corn and chicken made with natural ingredients. Enjoy the homely taste of real chicken and sweet corn with every spoonful of real Chinese Knorr soup
5 reasons to eat soup every now and then:
Delicious and flavorful
Source of real vegetables
Promotes appetite
Calming, relaxing and warming
Homely good
Preparation method:
Put the contents of this bag in a pan with 800 ml of water.
Mix well
Bring the soup to a boil
Let the soup simmer on a lower heat for about 5 minutes, stirring now and then
Add 1 fresh whole raw egg and stir well with a whisk.
Ready to serve
Ingredients:
Cornstarch, sugar, iodized salt, corn powder, chicken (meat, fat, identical flavor), flavor enhancers: E621, lactose, grain flakes, palm oil, natural and artificial flavors, mustard, leek, herbs, vinegar powder (preservative, sodium acetate, acidifier: citric acid, lactose), natural color.
Also known as: Knorr Chicken & Corn
Country of origin: Philippines
Brand: Knorr
Code: 4808680210759
Content: 60 gr (2.12 Oz)