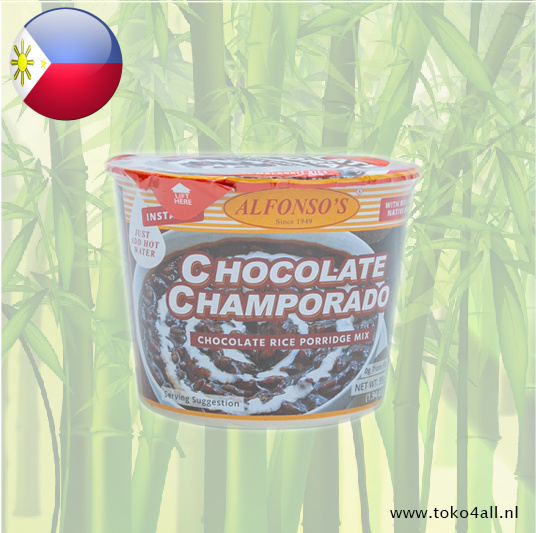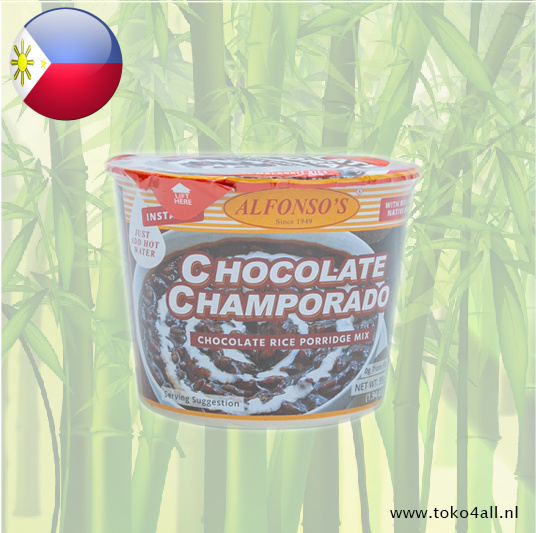 Chocolate Champorado Cup 55 gr
€1,60
Chocolate Champorado Cup is a dish made of glutinous rice and cocoa powder. With this cup you will get in no time the best champorado.
In stock (23)
(Delivery timeframe:1-3 days)
Chocolate Champorado Cup
Sweet, chocolatey, and satisfying. That is Alfonso's Chocolate (Tsokolate) Champorado, your next favorite instant chocolate porridge. No need to cook and is easy to prepare. Just add steaming hot water into it, cover for a few minutes, stir well, and serve
Champorado
This is a traditional dish which is well known in the Philippines. It is a dish made of glutinous rice, cocoa powder, sugar and milk. This dish is more of a lunch dish or can be served as a snack. It can be eaten hot or cold. The origins of this dish can be found at the time that the Philippines was trading with Mexico. The Mexican traders brought the dish to the Philippines. Over the years, the Filipino made this dish more in their own style and added rice.
Instructions:
Pour contents of sachet and hot water into bowl
Stir well. Wait for 2 minutes. Enjoy!
For a creamier taste, use less water and add milk
Ingredients:
Sticky rice, chocolate tablet (sugar, cocoa, whey powder), modified tapioca starch.
Also known as: Champ-o-rado
Country of origin: Philippines
Brand: Alfonso's
Code: 4809010408082
Content: 55 gr (1.94 Oz)