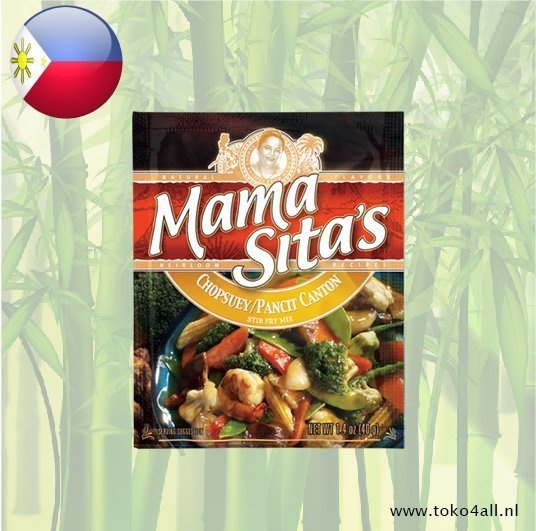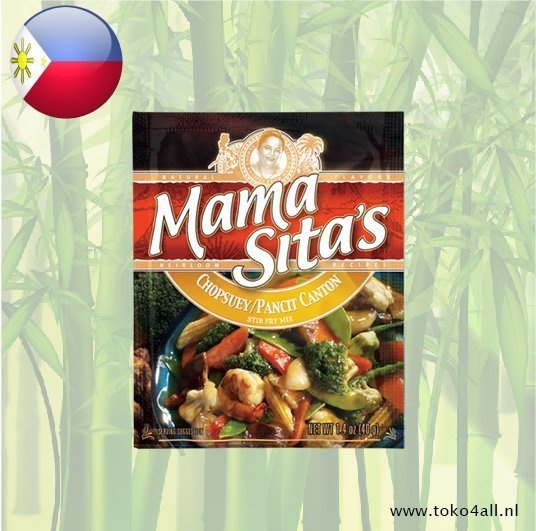 Chopsuey Pancit Canton Mix 40 gr
€1,55
Chopsuey Pancit canton mix is a complete mix to make delicious stir fry vegetables with canton noodles. The perfect mix for a wonderful experience.
In stock (74)
(Delivery timeframe:1-3 days)
Chopsuey Pancit Canton Mix
Once again a wonderful mix for an even more delicious meal. Mamasita offers a delicious herb mix to make your own stir-fry vegetables to prepare a unique way and serve with delicious noodles. As a vegetable, you can use the standard stir-fry vegetables, but you can also create your own composition. You can use bamboo shoots, mushrooms, bean sprouts, broccoli, snow peas, and carrot. Additionally, you can also add delicious fried pork or baked chicken thighs itself. The spice mix consists of a balanced blend of herbs and spices that you stir-fry give an even better authentic taste.
How to prepare?
For Chopsuey (Stir Fried Vegetables)
1 pouch (40g) Mama Sita's Stir Fry (Chopsuey/Pancit Canton) Mix
1.1 lb (1/2 kg) mixed vegetables - any or all of the following: cauliflower, broccoli, bell pepper, mushrooms, young corn, bean sprouts, asparagus, onions, carrots
1 cup (250 ml) water
2 tbsp (30 ml) cooking oil
1 pc (90g) fried tofu cut into serving pieces (optional)
Cooking Instructions:
Dissolve Mama Sita's Stir Fry Mix in water. Set aside
In a wok, heat oil and stir-fry vegetables and fried tofu.
Pour in dissolved mix and cook over high heat until sauce thickens and vegetables are fork tender
For Pancit Canton
8 oz (227g) canton noodles
1 recipe stir-fried vegetables
Cooking Instructions:
Plunge canton noodles in boiling water for 1 minute. Drain
In a wok, combine noodles and stir-fried vegetables. Cook in high heat for 2 minutes
Ingredients:
Corn starch, soy sauce powder (wheat, soy, dextrin, salt), flavor enhancers E621, E627, E631, salt, cane sugar, modified corn starch, garlic powder, yeast extract, onion powder, black pepper.
Also know as: Mama Sita's Chopsuey/Pancit Canton Mix(Stir Fry Mix)
Country of origin: Filipijnen
Brand: Mama Sita's
Code: 4804888804127
Content: 40 gr (1.4 Oz)