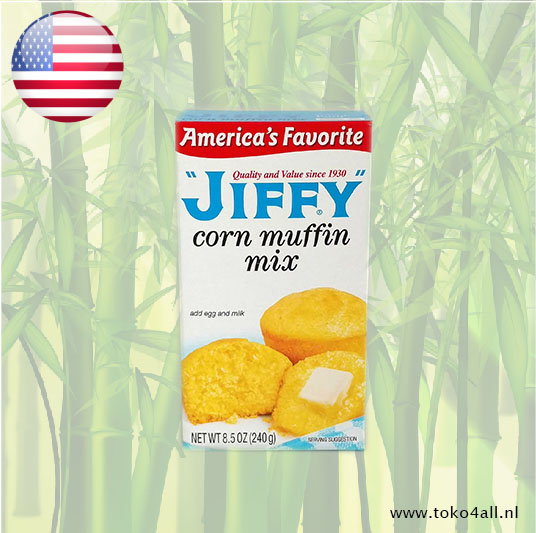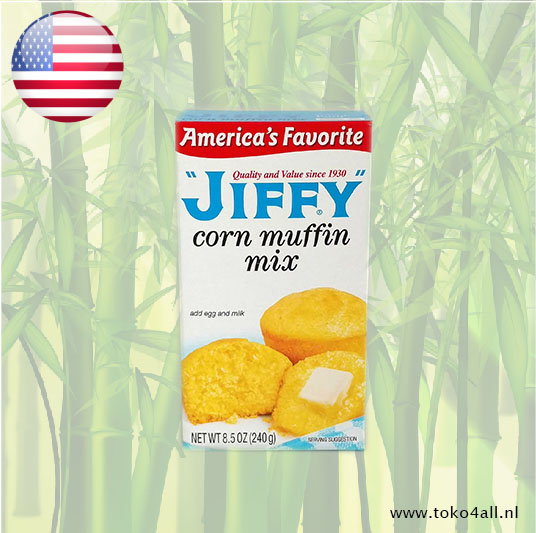 Corn Muffin Mix 240 gr
€1,75
Corn Muffin Mix from Jiffy and a basic product to make delicious muffins, cookies or desserts yourself.
Out of stock
(Delivery timeframe:Please contact us)
Corn Muffin Mix
This corn muffin mix from Jiffy is a mix with which you can make delicious muffins or sweet cornbread. The mix is easy to use and as a result you get beautiful golden yellow muffins with a delicious taste. You just need to add eggs and milk to this mix. Depending on the size of muffins, you can get 3 to 8 muffins from 1 package
Necessities:
1 pack of Jiffy Corn Muffin Mix
1 egg
80 ml of milk
Preparation method:
Preheat the oven to 200 ° C.
Grease the muffin tin or use paper baking cups
Stir the ingredients together. The batter will be a bit lumpy. (For maximum results, let the batter rest for 3 or 4 minutes, stirring lightly before filling the cups.)
Fill the muffin cups 2/3 full.
Bake for 15 - 20 minutes or until golden brown.
Ingredients:
Wheat flour, germinated yellow cornmeal, sugar, animal shortening (lard, hydrogenated lard, partially hydrogenated lard), 2% or less of: leavening agent E500ii, emulsifier E450i, acidity regulators E341i, E341iii, salt, wheat starch, reduced iron, vitamins B3, B1, B2, B9, preservatives E321, E330, E307 (vitamin E), anti-caking agent E551. Contains GMOs.
Also known as: Mais Muffin Mix
Country of origin: America (US)
Brand: Jiffy
Code: 072486002205
Content: 240 gr (8.5 Oz)