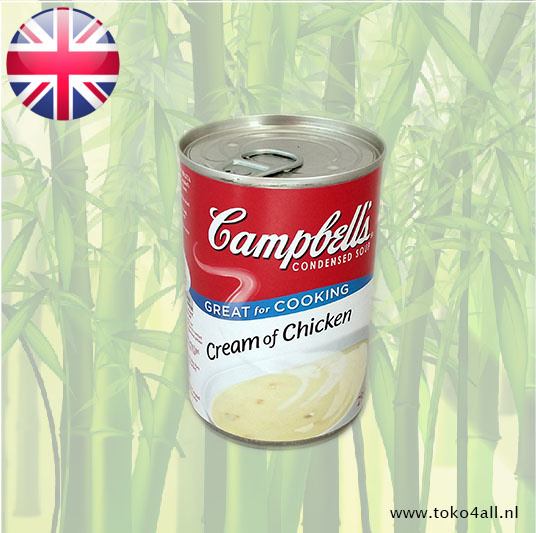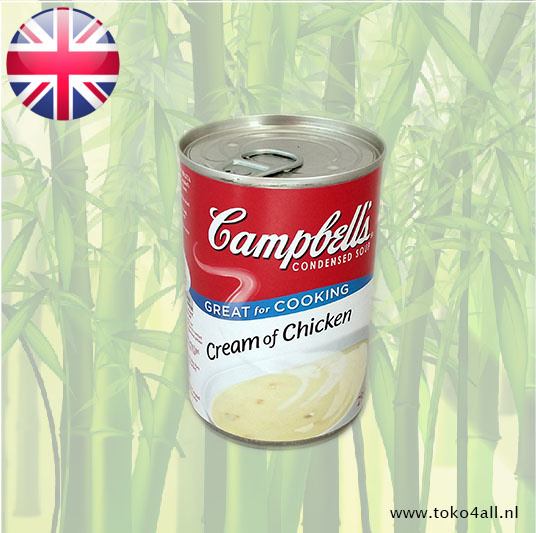 Cream of Chicken 295 gr
€2,35
Campbell's creamy chicken soup is a condensed soup that only needs an addition of water.
In stock (8)
(Delivery timeframe:1-3 days)
Cream of Chicken
Campbell's® Condensed Cream of Chicken Soup is a smooth, delicate blend of tender chicken meat with no antibiotics in a creamy chicken stock. Flavorful, family-friendly and versatile, keep it stocked in your kitchen to use an ingredient for your next best recipe
Preparation method:
     Put the content of this soup in a pan
     Fill the empty can with half water and half milk and pour it into the concentrate
     Stir well and heat to the boiling point.
Serve Idea:
     Serve as an appetizer or as a meal
     Excellent for use as a basic soup
Recipe Idea: Chicken Broccoli Divan
Ingredients
600 gr fresh broccoli florets or thawed frozen broccoli florets
300 gr cubed cooked chicken
can (10 1/2 ounces) Campbell's® Condensed Cream of Chicken Soup or Campbell's® Condensed 98% Fat Free Cream of Chicken Soup or Campbell's® Healthy Request® Condensed Healthy Request® Cream of Chicken Soup
80 ml milk
45 gr shredded Cheddar cheese
2 tablespoons plain dry bread crumbs
1 tablespoon butter, melted
How to Make It
Heat the oven to 200°C.  While the oven is heating, place the broccoli and chicken into a 9-inch pie plate.
Stir the soup and milk in a small bowl.  Pour the soup mixture over the broccoli and chicken.  Sprinkle with the cheese.  Stir the bread crumbs and butter in a small bowl.  Sprinkle the bread crumb mixture over the cheese.
Bake for 20 minutes or until the chicken mixture is hot.
Ingredients:
Water, rapeseed oil, modified maize starch, chicken, wheat flour (contains calcium carbonate, iron, thiamine, niacin), milk proteins, salt, cream (milk), dried chicken broth, flavorings, autolysed yeast extract, yeast extract, potato starch, herbs, sage extract, garlic extract, onion oil.
Also known as: Campbells Cream Of Chicken Soup
Country of origin: Engeland (UK)
Brand: Campbell's
Code: 063211197549
Content: 295 gr