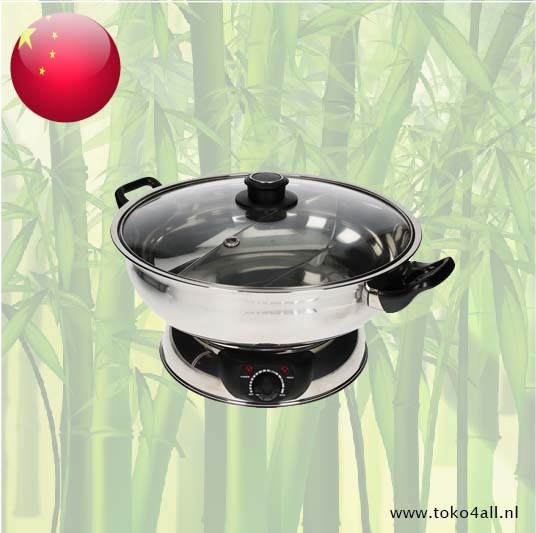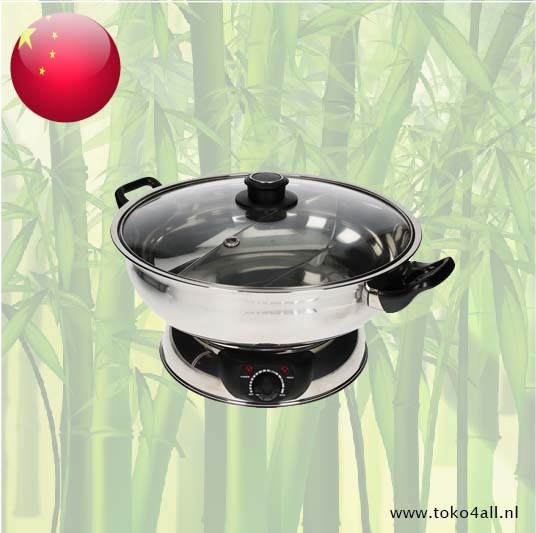 Electric hotpot 5 ltr PZ-9151
€109,95
This electric hotpot is an electrical appliance with two separate compartments that you can use for your hot pot dishes.
In stock (2)
(Delivery timeframe:1-3 days)
Electric hotpot with Korean grill plate
An electric hotpot is a special type of cooking appliance designed for preparing hotpots and fondues. It is a compact and portable cooking plate that operates on electricity and is equipped with a thermostat that allows you to regulate the temperature of the hotpot.
The device consists of a pot with a heating element underneath, which slowly heats up the contents of the pot. Hotpots are popular in many Asian countries and consist of a large pot of broth in which you can cook various ingredients, such as meat, fish, vegetables, and noodles.
An electric hotpot is ideal for people who enjoy cozy dining and experimenting with different dishes.
Technical information:
Capacity: 5 liters
Dimensions of cooking surface: Ø 30 cm
Adjustable thermostat
Cool touch handle
Transparent lid
Removable lid
Lid with steam outlet
Easy to clean
Anti-slip feet
Power indicator lights
Cord length: 1.2 m
220 - 240 V (50 - 60 hz)
Power: 1600 W
Instructions:
Fondue:
Remove any unwanted material from the heating element and the cone-shaped heating element before each use.
Place the base on a flat, horizontal surface. Place the fondue pot on the base. Before use, try to move the fondue pot to ensure that it is firmly positioned on the base.
Fill the fondue pot with broth, up to a maximum of 70% of the height of the pot, to avoid the risk of electric shock from spillage.
Ensure all knobs are in the "off" position.
Plug the appliance into a power outlet. The power indicator light will come on.
Ensure the grill plate is positioned on top of the cone-shaped heating element to prevent it from getting wet.
Adjust the desired heat of the fondue pot using the fondue control knob. Choose "LOW" for low heat, and "HIGH" for full power.
Add food to the broth once it begins boiling.
Set the hotpot knob to "OFF" after use.
Also known as: Elektrische hotpot
Country of origin: China
Brand: Tristar
Code: 8712836964983
Content:1 set