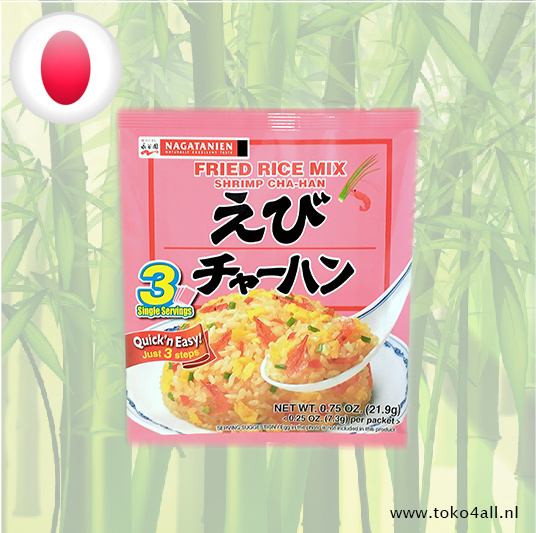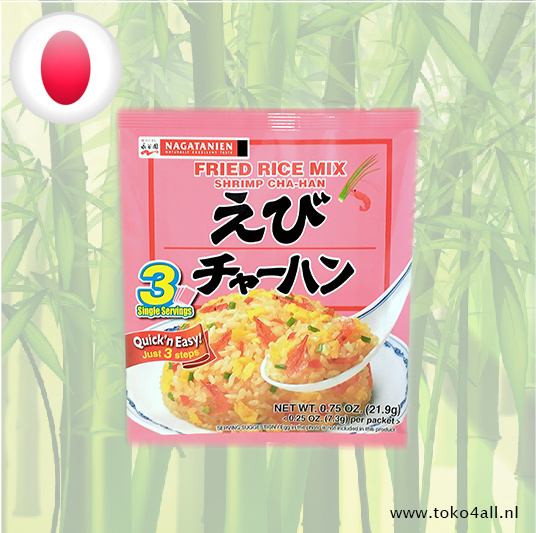 Fried Rice Mix Shrimp Cha-Han 21.9 gr
€2,50
Fried Rice Mix Shrimp Cha-Han from Nagatanien is a spice blend for a tasty variation of the fried rice.
In stock (1)
(Delivery timeframe:1-3 days)
Fried Rice Mix Shrimp Cha-Han
Fried rice is also known as nasi, everyone has their own recipe for that. Bake rice, pepper, salt, peas, or other vegetable mix and shrimp paste or soy sauce. But why not even something else? Try this spice blend and make the nasi different from what you are used to. With a combination of herbs and fish, it makes a tasty variation. 1 sachet contains 3 sachets for 3 servings of a single meal.
Necessities p.p.:
1 tablespoon of oil
1 beaten egg
250 gr rice
1 bag of Fried Rice Mix Shrimp Cha-Han
Ingredients:
Salt, starch, sugar, yeast extract (lactose, soy, wheat flour), soy sauce (water, soy, wheat flour, salt, starch, palm oil), shrimp, onion, fish paste (cod, sugar, salt, potato starch), red pepper, onion, garlic powder (garlic, palm oil), black pepper, kelp powder, modified starch, onion powder (onion, corn starch), colorant 150c, soy flour, sweetener E420, anti-caking agent E335t natural and artificial colorant, red pepper, colorant E129
Also known as: Fried Rice Mix Shrimp Cha-Han
Country of origin: Japan
Brand: Nagatanien
Code: 813554010018
Content: 21.9 gr ( 0.75 Oz)